skip to content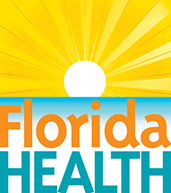 It's a New Day in Public Health.
The Florida Department of Health works to protect, promote & improve the health of all people in Florida through integrated state, county, & community efforts.
skip to content
Public Swimming Pools
Contact the Public Swimming Pools Program
 

Fax

850-487-0864
 

Mailing Address

Bureau of Environmental Health, Water Programs 

4052 Bald Cypress Way, Bin A-08 

Tallahassee, FL 32399-1710 
Public Swimming Pools Overview 
*Note: This page contains materials in the Portable Document Format (PDF) and Microsoft Word format (DOC).  The free Adobe Reader or  Microsoft Word Viewer may be required to view these files. 
To protect the public health the department has adopted sanitation and safety standards for public pools in Chapter 64E-9, Florida Administrative Code (opens in a new window), and enforces those rules through the issuance of operating permits and inspections.  Permitting and inspections are done by the Environmental Health Section of the Florida Department of Health in each county.
Authority: Chapter 514, Florida Statutes
Rule: Chapter 64E-9, FAC
Public Swimming Pool and Bathing Place Advisory Review Board - Pool Variance Board Purpose, Membership, Agendas & Notices of Meetings
FOR THE PUBLIC - inspections & fencing
FOR BUSINESS - where to send pool plans, health & safety criteria
FOR BUSINESS - permits
Public Pool Service Technicians
Fecal Accidents
Forms
FOR BUILDING CODE OFFICIALS - Checklists, Briefings
Entrapment protection
Virginia Graeme Baker Federal Pool and Spa Safety Act
Links
The Department of Health is responsible under 
Chapter 514, Florida Statutes
 (opens in a new window), for the routine surveillance of water quality and safety at all public swimming pools.
Public Swimming Pool and Bathing Place Advisory Review Board

Notice of Meeting/Workshop Hearing
May 11, 2016, 9:30 A.M., ET, until done, but no later than 2:00 P.M.
PLACE: DOH Orange County Health Department Auditorium, 6101
Lake Ellenor Drive, Orlando, FL 32809; telephone conference:
1(888)670-3525 toll-free, participant pass code: 7708044610 then #
GENERAL SUBJECT MATTER TO BE CONSIDERED:
This bimonthly meeting of the Public Swimming Pool and Bathing Place Advisory Review Board is for the Board to recommend agency action on variance application requests.

Agenda (pdf, opens in new window)
 
Pursuant to the provisions of the Americans with Disabilities Act, any person requiring special accommodations to participate in this workshop/meeting is asked to advise the agency at least 3 days before the workshop/meeting by contacting: Mr. Ursin, contact information is listed above. If you are hearing or speech impaired, please contact the agency using the Florida Relay Service, 1(800)955-8771 (TDD) or 1(800)955-8770 (Voice).
Published April 28, 2016 in FL Admin. Register
Purpose: The purpose of the advisory review board is to promote better relations, understanding, and cooperation between such industries and the department; to review and make recommendations regarding department product approval standards; to suggest means of better protecting the health, welfare, or safety of persons using the services offered by such industries; and to give the department the benefit of the knowledge and experience of the board concerning the industries and individual businesses affected by the laws and rules administered by the department.
Membership: Chapter 514.028 of the Florida Statute requires the Governor's appoint board shall be comprised of:
(a) A representative from the office of licensure and certification of the department. (Incumbent Mark Pabst, FL DOH)
(b) A representative from the county health departments. (Incumbent Darrel Graziani, FL DOH in Palm Beach County)
(c) Three representatives from the swimming pool construction industry. (Incumbents Jim LePetrie, P.E., Wet Engineering; Fred "Corky" Williams, National Pools; and Michael Kelly,
Kelly Pools, Inc. )
(d) A representative from the public lodging industry. (Incumbent Jeff Kosik, Walt Disney World)
(e) A representative from a county or local building department. (Incumbent Alan C. Plante, CBO, Orange County Division of Building Safety)

To inquire to become a board member, please visit the Governor's Appointment Office's website 
Resources: Download a variance application (opens in new window, pdf<1mb)
Where do I send my pool plans?
As of October 1, 2014, changes to Florida Statutes 514 and 553 require that an application for an operating permit must be submitted to the Department of Health before the Building Department can issue a construction or modification permit for a public pool.  The new application form DH4159 and the Permitting Sequence is found in the next section below.  The Building Department also cannot issue a Certificate of Completion or Occupancy until the Department of Health issues the operating permit. 
We recommend you contact the Department at least a week before the planned opening. Program office staff is available in Tallahassee (850-245-4240) or Orlando (407-317-7172) to answer any questions.
An individual who services a public pool by maintaining the cleanliness, water quality and chemical balance of public pools shall be certified. To be certified an individual must demonstrate knowledge of public pools. Examples of such knowledge include: pool cleaning, general pool maintenance, make-up water supply, bacteriological, chemical and physical quality of water and water purification, testing, treatment, and disinfection procedures. To ensure that the pool technicians are knowledgeable, said technician shall attend a training course of national recognition that is approved by the department of at least 16 hours in length and shall pass a test acceptable to the department.
Florida Department of Health Approved Public Pool Service Technician Certification Courses (pdf <1mb, opens in a new windows
CDC Healthy Swimming website - This Federal Center for Disease Control and Prevention (CDC) website provides information on recreational water illnesses and what the public, health professionals and pool facility operators can do to prevent their transmission: CDC Healthy Swimming website (http://www.cdc.gov/healthyswimming) (opens in new window)

ANSI Certified Lab's Product Listing websites for NSF/ANSI Standard 60 Drinking Water Treatment Chemicals- Health Effects.
NSF International (opens in new window)
Water Quality Association (opens in new window)
UL LLC (Underwriters Laboratories) (opens in new window)
ANSI Certified Lab's Product Listing websites for  NSF/ANSI Standard 50 Swimming Pool Products
NSF International (opens in new window)
Applied Research Laboratories (opens in new window)
IAPMO R&T (opens in new window)