skip to content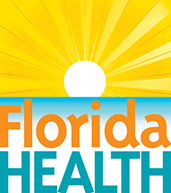 It's a New Day in Public Health.
The Florida Department of Health works to protect, promote & improve the health of all people in Florida through integrated state, county, & community efforts.
skip to content
County Health Departments
Contact the Florida Health
 

Mailing Address

Florida Health 

4052 Bald Cypress Way 

Tallahassee, FL 32399 
Public Health is the foundation of Florida's health care system.  Public health services protect us from disease and injury and encourage us to change behaviors that cause poor health.  The county health departments improve health status by preventing epidemics, protecting against environmental hazards, encouraging healthy behaviors, preparing for and responding to disasters, and assuring the quality and accessibility of health services.  "It is the intent of the Legislature to promote, protect, maintain and improve the health and safety of all citizens and visitors of our state through a system of coordinated county health department services" (Chapter 154.001, F.S.)  County Health Departments are located in all 67 of Florida's counties.
County health departments are state-local partnerships that enter into a contract annually with their host Board of County Commissioners.  The contract specifies the services to be provided and the revenues that fund the services.  County health departments are supported by a variety of revenues including state funds, county funds, federal funds, fees, Medicaid, grants, and contracts.
County health departments have served approximately one million persons annually in each of the past four years.  About two-thirds of these clients had family income below the federal poverty level.
County health departments have ensured, either by providing directly or by contract, that prenatal care, immunization, sexually transmitted disease, family planning, and basic sick care services are available in all 67 counties in Florida.
The percent of two year olds fully immunized in Florida has increased from 83% in 1998 to 86.1% in 2011.  These high immunization rates in pre-school age children represent an impressive achievement as a new cohort of children must be immunized every year.
In 2011 the total number of cases of haemophilus influenzae type B in children under five in Florida was zero; confirmed cases of measles in children under 19 was 8, and only three children under 19 weres reported with hepatitis B.  A remarkable achievement in a state with over one million pre-school age children.
The majority of active tuberculosis cases in Florida in the last four years have been treated by county health departments.
The TB case rate per 100,000 has declined from 8.5 in 1998 to 4.0 in 2011.
The birth rate per 1000 females aged 15-19 in Florida has declined from 27.5.0 in 1992 to 21.9 in 2012.
The AIDS case rate in Florida has dropped from 32.6 per 100,000 in 1998 to 17.4 per 100,000 in 2011.
Infant mortality in Florida has dropped from 8.8 per 1,000 live births in 1992 to 6.0 in 2012.
County Health Departments have served effectively as the front line defense against bio-terrorism and natural disasters.
Core County Health Department Functions
 Infectious Disease Prevention and Control: includes surveillance; diagnosis and treatment; partner elicitation and contact tracing; and risk reduction education.  The county health departments are either directly or indirectly involved in the treatment and/or follow-up of the majority of reportable infectious disease cases in Florida. 
Over 1.2 million immunization services provided annually
Over 60,000 people treated or screened annually for tuberculosis
Over 400,000 birth and death records generated annually
Over 100,000 people receiving services for sexually transmitted disease detection and control
Over 30,000 people receiving AIDS treatment and prevention services
Basic Family Health Care Services: includes treatment for minor illnesses and injuries; prenatal care; family planning; well child services; school based health care, and dental health care.  The county health departments serve as the primary care safety net for persons who have difficulty accessing this care from the private sector.
Over  275,000 people receive primary care for children and adults
Over 130,000 people receive professional dental care annually
Over 230,000 women and infants receive clinical care or care coordination annually through Healthy Start
Over 200,000 people receive family planning services
Approximately 2.4 million students are screened or treated annually in school-based health care programs
Over 400,000 women and young children are served monthly through WIC nutrition services
Environmental Health Services: includes the inspection and monitoring of onsite sewage disposal systems and group care living facilities such as day care centers and nursing homes as well as monitoring private water wells for contamination.  County health departments work with the Department of Environmental Protection to guard against groundwater contamination from leaking petroleum storage tanks and investigate a variety of reported sanitary nuisances.
 Over 360,000 septic tank permits and inspections annually
Over 200,000 inspections of day care centers, nursing homes, and other group living facilities annually
Over 80,000 radiation devices, users, and facilities regulated annually
Over 275,000 groundwater monitoring inspections and reviews performed annually
Over 120,000 services provided annually in response to sanitary nuisances, hazardous substances, animal or insect borne diseases, lead poisoning, and other community hygiene issues.