General Information and Symptoms
Cryptosporidiosis in humans is caused by infection with a protozoan parasite classified as Cryptosporidium parvum. Oocysts, the infective stage of this parasite, cause an illness that presents as watery diarrhea with abdominal cramps, possibly accompanied by fever, nausea, vomiting, and myalgias.1 After exposure, the incubation period ranges from 1 to 12 days (median 7 days). In AIDS patients, the illness varies from asymptomatic carriage to severe watery diarrhea with weight loss, electrolyte imbalance and dehydration. Duration of illness can range from days to months, but usually resolves within 2 weeks in otherwise healthy patients. Shedding of oocysts, however, can occur up to 2 weeks after the patient is clinically well.

Transmission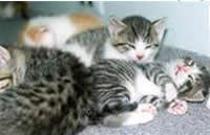 Oocysts may be transmitted via contaminated food or water, by direct contact with infected livestock or pets, and from person to person by the fecal-oral route.2 Cryptosporidium oocysts are present in most surface waters (i.e. rivers, streams, and lakes) throughout the United States, and have shown resistance to chlorine. Oocysts are also difficult to remove by filters. Epidemiological studies have shown that municipal water supplies, camping, swimming, association with kittens, puppies and young livestock or direct contact with feces while caring for an infected person prior were the most frequently identified risk factors.
Cryptosporidiosis in Florida
Cryptosporidiosis has been reportable in Florida since 1992, when 27 cases were reported. Case reporting increased somewhat in 1993 (54) and 1994 (86), but more than tripled in 1995 (1.9 per 100,000) when 275 confirmed cases were documented.3 Since 2000, the annual average of cryptosporidiosis cases acquired in Florida has remained near 130 cases per year. Incidence is highest in children less than five years old and males 30 to 39 with rates in non-whites of both sexes more than twice as high as whites. Most cases occur sporadically with the incidence highest in Dade, Broward and Palm Beach Counties. However, a waterborne outbreak at a school day care facility in Alachua County involving 77 individuals, mostly children, was investigated in 1995.4
Current Information
The CDC has recently produced a handbook entitled Cryptosporidium and Water that will help local health departments and water utilities deal with Cryptosporidium in community water supplies.5 Copies can are available online at http://www.cdc.gov/ncidod/diseases/crypto/crypto.pdf or may be obtained by writing to: Centers for Disease Control and Prevention, National Center for Infectious Diseases, Division of Parasitic Diseases, Mailstop F-22, 4770 Buford Highway N.E., Atlanta, GA 30341-3724.
Resources
Klass, J., Cryptosporidium. In Clinical and Pathogenic Microbiology 2nd edition, Howard, BJ, et al., Mosby-Year Book Inc., St. Louis, Mo. 1994; pp. 704-07.

Juranek, DD, Cryptosporidiosis: Sources of infection and guidelines for infection prevention. Clinical Infectious Diseases 1995;21(Suppl) S57-61

Florida Department of Health, Cryptosporidiosis, Florida Morbidity Statistics.1995 pp. 32-34.

CDC, Outbreak of Cryptosporidiosis at a Day Camp-Florida MMWR Vol.45/No.21 May 31,1996;42-44.
*Note: This page contains materials in the Portable Document Format (PDF). The free Adobe Reader may be required to view these files. All documents on this page are PDFs under 1 MB unless otherwise noted, and open in a new window.