African tick bite fever (ATBF) is caused by a bacterium called Rickettsia africae.  It was first identified in southern Africa in 1911.  The bacterium is transmitted by Amblyomma ticks, primarily A. variegatum (the tropical bont tick) and A. hebraeum (the southern African bont tick).  R. africae has been detected in 15 African countries and has been introduced into the West Indies along with A. variegatum ticks.
Symptoms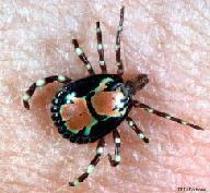 Symptoms generally appear 5-7 days (up to 10) after a tick bite and include fever, nausea, fatigue, headache, muscle pain, and neck stiffness.  There is generally an inoculation eschar at the site of the tick bite that consists of a black crust surrounded by a red halo.  Some people have multiple eschars due to multiple bites.  Complications seem to be rare and there are no known fatal cases.
Travelers to sub-Saharan Africa or the West Indies are at risk of developing the disease.  Outdoor activities including game hunting, safari, and backpacking may increase risk.  Travel between November and April and travel to South Africa have been identified as other risk factors.  Recent studies have indicated that between four and eleven percent of travelers to rural southern Africa had serolocal evidence of recent rickettsial infection.  It is important to take personal protective measures against ticks when visiting these areas.
Resources
Jensenius M, Fournier P, Kelly P, Myrvang B, Raoult D. African tick bite fever. The Lancet Infectious Diseases. 2003; 3:557-564.
Raoult D, Fournier P, Fenollar F, Jensenius M, et al. Rickettsia africae, a tick-borne pathogen in travelers to sub-Saharan Africa. New England Journal of Medicine.  2001; 344(20):1504-1510.
Kelly P.  Rickettsia africae in the West Indies. Emerging Infectious Diseases. 2006; 12(2): 224-226.
Cazorla C, Socolovschi C, Jensenius M, Parola P. Tick-borne Diseases: Tick-borne Spotted Fever Rickettsioses in Africa.  Infect Dis Clin N Am. 2008; 22:531-544.