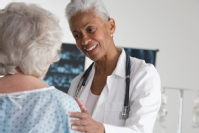 No Matter Your Age...
If you suspect that you, have tuberculosis, please get yourself checked. Your doctor can perform the test needed, or if you do not have a personal physician, contact your local county health department. They have trained professionals who will assist you and answer any questions you may have.
Contact Us
If you need help locating a clinic or have further questions regarding TB, contact us at 850-245-4350. We are here to serve you.