skip to content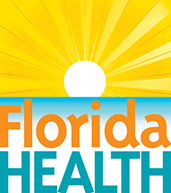 It's a New Day in Public Health.
The Florida Department of Health works to protect, promote & improve the health of all people in Florida through integrated state, county, & community efforts.
skip to content
Cyanobacteria/Blue-Green Algae Blooms and Public Health
force line break in cascade




How to Keep Your family safe while Enjoying Florida's Water Ways



Cyanobacteria/ blue-green algae are a group of organisms that can live in freshwater, salt water or
mixed "brackish" water. Most of us know them as "pond scum." These kinds of organisms are naturally occurring in Florida's environment and are also found all over the world. They are part of a healthy ecosystem and help support a wide variety of aquatic life.

When conditions are right, such as warm water and increased nutrients, these organisms can increase in  numbers and accumulate in some areas of a water body. These blooms can sometimes be pushed near  the shore by winds, waves, tides and currents. When this happens, people have a greater chance of contacting the blooms.

Algae blooms are easy to see as many types float on top of the water and are colorful including green, brown, and red. When blooms are present, the Florida Department of Health recommends that people avoid these areas.

You can find additional information on health issues related to algae on the DOH web site for Aquatic Toxins.


To report a human illness related to an algae bloom, please call the
Florida Poison Control Center) at 1- 800-222-1222
Toll-free hotlines are available for people to report fish kills and algae blooms:
Fish Kill Hotline (Florida Fish and Wildlife Conservation Commission) 800-636-0511
Florida Department of Environmental Protection 855-305-3903
More information on cyanobacteria/ blue-green algae blooms can be found in the tabs below:
Background
Health Studies
WHAT ABOUT FISH?
How to Avoid Blooms while Enjoying our Waterways
How to Keep your Pets Safe
Some blue-green algae produce chemicals called cyanotoxins.
At high concentrations, cyanotoxins can affect the liver, nervous system and skin.
Most problems occur when substantial amounts of water containing high toxin amounts is swallowed such as when people drink untreated surface water.
Besides drinking the affected surface water, it is difficult to get cyanotoxins into the body as they do not become easily airborne and do not pass through the skin readily.
Most people avoid a blue-green algae bloom because they tend to be icky-looking and smelly.
Ecological studies that examine links between environmental conditions and health are meant to be used as a screening tool to generate new ideas as to the cause of health problems that need further research (i.e. hypothesis testing).
The results cannot be used as proof of cause for the following reasons:

The studies are not designed to link a particular individual's exposure with the individual's health outcome, meaning there is no way to know whether the disease occurred more frequently in those persons exposed to cyanobacterial toxins that those that were not.

Study results may indicate an association between toxin exposure and disease that is not real.

Results of ecological studies are even more difficult to interpret when the association between the exposure and disease outcome is complex.

Ecological studies also do not account for other risk factors and alternative reasons for a particular disease or symptoms such as underlying inherited health conditions, lifestyle factors, or diet.

The toxicity of a substance generally increases as the dose increases. Also, the greater the amount of a substance a person is exposed to, the more likely that health effects will occur. The overall dose a person is exposed to depends on a variety of factors including the concentration of the substance, how often the exposure occurred, how long each exposure lasted and the route of exposure (eating, drinking, or breathing). Ecological studies do not take the exposure dose into account. For example, they don't control for migration of people or length of residency in the area of interest.

The studies may also be skewed by differences in the location of a particular exposure versus the location where illness was reported.
Fish tested from water with blue-green algae blooms show that the cyanotoxins from algae do not accumulate much in the edible portion of fish which is the muscle or fillet meat. Exposure to cyanotoxins from catching and eating the fish from areas with blue-green algae is minimal.

Many lakes and rivers in Florida are large with blooms not covering the entire water body. Most of the fish are not in the area where blooms exist. Blooms also tend to be temporary, especially by place and time as they move around due to wind, waves and currents. We suggest that people do not harvest fish near or in the blooms.
Do not swim in cyanobacteria/blue-green algae blooms
If you come in to contact with the bloom, wash with soap and water

Some people who are very sensitive to the algae, may develop a rash.
Some people who are very sensitive to smells, may experience respiratory irritation.

Do not eat fish that are harvested from areas near or in the blooms.
Untreated water from the bloom area should not be used for irrigation when people could come into contact with the spray.
As always, if you experience an illness, please see your health care provider.
Do not allow your pets to swim in the bloom, drink surface water of the bloom or near the bloom, or eat the scum of the bloom.
If your pet goes in the water near or in a bloom, do not let them lick their fur and rinse them off.
*Note: This page contains materials in the Portable Document Format (PDF). The free Acrobat Reader may be required to view these files.