Every county in Florida is at risk for natural or man-made emergencies or disasters.  One of your greatest challenges during disasters becomes balancing emergency responsibility with continuing routine delivery of public health services.
Project Public Health Ready (PPHR), a partnership program between the Florida Department of Health, the National Association of County and City Health Officials (NACCHO), and the Centers for Disease Control and Prevention (CDC), is an effective tool for increasing community preparedness. Its comprehensive framework can structure your efforts to enhance staff proficiency and confidence in responding to emergencies.
Florida was the first state to coordinate this national public health program statewide, and encourages all of its CHDs to participate.
Congratulations to the Florida CHD PPHR national recognition winners!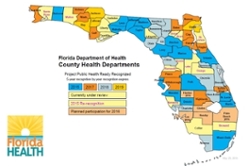 Successfully completed 5 year re-recognition*
Map of PPHR recognized County Health Departments in Florida

Recognized July 2012

Baker County Health Department
Clay County Health Department*
Escambia County Health Department*
Highlands County Health Department*
Hillsborough County Health Department
Holmes County Health Department
Indian River County Health Department*
Nassau County Health Department*
Pasco County Health Department*
Putnam County Health Department
Washington County Health Department

Recognized 2011

Alachua County Health Department
Desoto County Health Department
Jefferson County Health Department
Leon County Health Department
Levy County Health Department
Madison County Health Department
Manatee County Health Department
Marion County Health Department*
Martin County Health Department*
Miami-Dade County Health Department
Okaloosa County Health Department
Pinellas County Health Department*
Polk County Health Department*
St. Lucie County Health Department*
Taylor County Health Department
Volusia County Health Department
Wakulla County Health Department

Recognized 2010

Bradford County Health Department
Broward County Health Department
Hernando County Health Department
Lake County Health Department
Okeechobee County Health Department*
Orange County Health Department*
Palm Beach County Health Department*
St. Johns County Health Department
Santa Rosa County Health Department
Sarasota County Health Department
Sumter County Health Department
Union County Health Department
Walton County Health Department
Florida Department of Health - state PPHR recognition

Recognized 2008

Seminole County Health Department*

Recognized 2007

Charlotte County Health Department
Citrus County Health Department
Clay County Health Department
Escambia County Health Department
Highlands County Health Department
Marion County Health Department
Nassau County Health Department
Pasco County Health Department
Polk County Health Department

Recognized 2006

Indian River County Health Department
Martin County Health Department
Pinellas County Health Department
St. Lucie County Health Department

Recognized 2005

Okeechobee County Health Department
Orange County Health Department
Palm Beach County Health Department

Recognized 2004

Seminole County Health Department
How to Participate
PPHR identifies planning, training, and exercise needs, and structures assessment and documentation of emergency response capacities / capabilities, through CHD-specific criteria. Mentoring and technical assistance are provided during the application process.

The Florida Department of Health Project Public Health Ready (PPHR) team is lead by a State Coordinator housed in Tallahassee and a County Coordinator located in a local county health department.

Please access the following sites for additional PPHR information:

Under Florida law, e-mail addresses are public records. If you do not want your e-mail address released in response to a public records request, do not send electronic mail to this entity. Instead, contact this office by phone or in writing.

Please address requests, comments, and questions to Florida PPHR Mailbox at FLProjectReady@doh.state.fl.us
Some of the files on this page may require Adobe Acrobat Reader.
Download a free version of Adobe Acrobat Reader