Plans are the foundation of successful responses. It is important that all stakeholders have an understanding of response plans and are able to implement them successfully during disasters. This page contains the following Florida state-level plans and planning resources:
Florida's Public Health and Health Care Preparedness (PHHP) Strategic Plan
Comprehensive Emergency Management Plan (CEMP)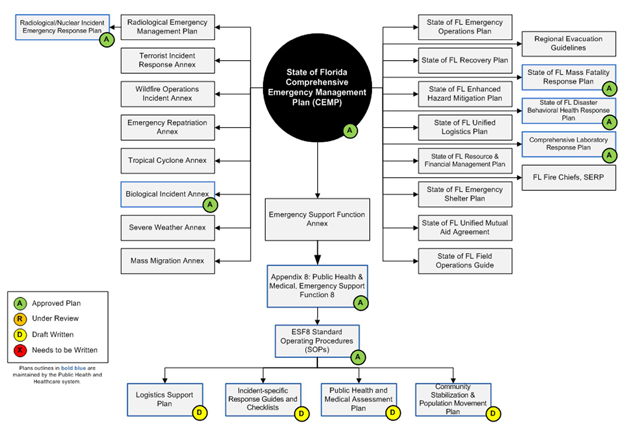 Florida law establishes the Comprehensive Emergency Management Plan as the core operations document for the State of Florida and it is the framework through which the state handles emergencies and disasters. The CEMP is maintained for all state agencies by the Division of Emergency Management and includes a base plan, incident annexes, Emergency Support Function appendices, and other supporting plans.

The public health and medical components of the State's response are coordinated through Emergency Support Function 8 (ESF8) and documented in Appendix 8 of the CEMP. The ESF8 Appendix is the foundation for all other ESF8 plans.
Public Health and Medical has the lead for developing and maintaining some of the incident annexes and support plans to the CEMP in coordination with other State Emergency Response Team partners.
ESF8's Interoperable Communications Plans are documented in conjunction with Florida's
Public Health and Medical Interoperable Communications Plan
Emergency Medical Services Communications Plan
Department of Health Emergency Operations Plan (EOP)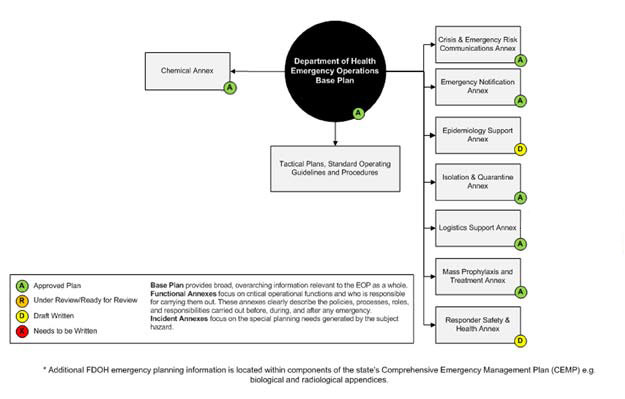 The Florida Department of Health's Emergency Operations Plan describes the Agency's approach to managing emergencies. The plan includes incident annexes and functional annexes that support the base plan.
DOH Emergency Operations Plan

Functional Annexes

Incident Annexes and Appendices

Emergency Operations Tactical Plans

General Planning Resources and County Planning Resources pages for additional planning tools.
*Note: This page contains materials in the Portable Document Format (PDF).  The free Adobe Reader may be required to view these files.