Disaster Workforce credentialing provides for an objective evaluation and documentation of an individual's current certification, licenses, or degree, training and experience and demonstrated competence or proficiency to meet state or national standards. Credentialing is an administrative process for validating personnel identity, qualifications and providing authorization to perform specific functions during an incident. In 2010-11, the Florida Department of Health developed a White Paper on credentialing the disaster workforce. This paper provides an overview of national and state disaster workforce credentialing initiatives and recommends action steps to enhance the public health and healthcare components of the state credentialing initiative.
Florida Public Health and Health Care Preparedness Disaster Workforce Credentialing White Paper
Credentialing means having provided documentation that identifies personnel and authenticates and verifies the qualifications of such personnel by ensuring a common level of training, experience, physical and medical fitness, and capability appropriate for the position. Furthermore, credentialing provides the authority for the personnel to be within an area of operations. (2003, Homeland Security Presidential Directive #5). Florida's credentialing framework is diagramed below as a toolbox with each drawer housing a set of tools for credentialing the disaster workforce.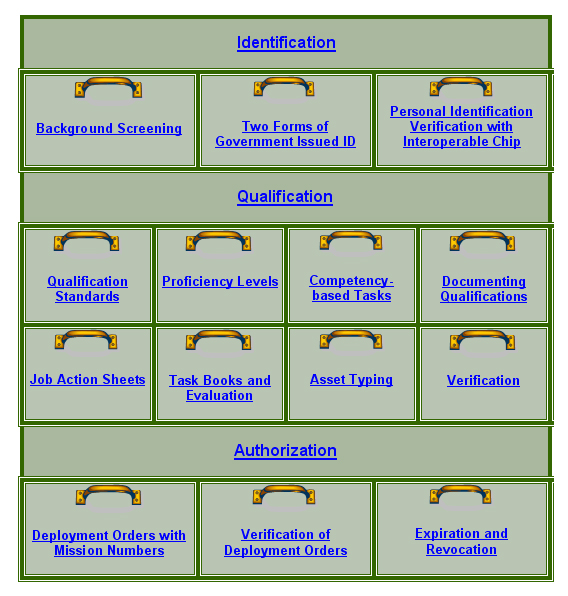 Florida's Public Health and Health Care Credentialing Framework for the Disaster Response Workforce
Identification
Background Screening: Personnel must be background screened and be given verification of their identity. This is the badging component of the credentialing framework.

Two Forms of Government Issued ID: Two forms of government issued picture identification must be carried into a deployment and must be verified on scene.

Personal Identification Verification with Interoperable Chip: A personal identification verification badge may have an interoperable chip.
Qualification
Resources must meet defined standards and incorporate National Incident Management System definitions. Individual typed assets are personnel whose qualifications are compared against the standard. These assets are then vetted for eligibility, verified and assigned a type by a proficiency level. Eligibility is based on proof of qualification and demonstrated competency. The tools in this part of the credentialing framework are:

Qualification Standards:

Florida Disaster Responder Qualification Standards

Special Needs Shelter Team Leader
Environmental Health Team Leader
Epidemiology Team Leader
ESF8 Logistics Section Coordinator
ESF 8 Plans Section Coordinator
ESF 8 Public Information Officer

Florida Disaster Responder Qualification Standards (Draft for ESF 6)
Florida Type 3 All Hazards Incident Management System Credentialing Guide (adopted by the Domestic Security Oversight Council March 2013)

Proficiency Levels: There are four proficiency levels used in describing personnel.
Expert: This individual is considered a Type 1 asset, having the highest capability. They have superior understanding of the subject area and response role and are able to operate without supervision to coordinate multi level mission assignments.
Fully Qualified: This individual is considered a Type 2 asset, fully capable of performing tasks associated with the response role with limited supervision.
Basically Qualified: This individual is considered a Type 3 asset, but not capable of operating autonomously.
Trainee or Entry Level: This individual is considered a Type 4 asset, new to the response role and must operate with direct oversight and guidance from a more qualified individual.

Competency-based Tasks:

Job Action Sheets:

Task Books and Evaluations:

Asset Typing:



Verification: The qualifications documented in SERV FL will be verified electronically if possible. All qualification documents must be in electronic format.
Authorization
Deployment Orders with Mission Number: The deployment orders and mission number are produced by the Division of Emergency Management EM Constellation system operating at the Emergency Operations Center. The system takes in requests from areas needing resources and produces a mission description and number for each resource deployed.

Verification of Deployment Orders: No resources are deployed without a mission. Resources deploying without a mission are unauthorized and will not be granted access to an area of operations. A disaster responder is not fully credentialed until this authorization is verified.

Expiration and Revocation: The mission orders have a start and an end date. The responder is not authorized to be in the area of operations after the mission orders expire.
*Note: This page contains materials in the Portable Document Format (PDF).  The free Adobe Acrobat Reader may be required to view these files.

*Note: This page contains materials in the Microsoft Word (DOC) format.  The free Microsoft Word Viewer may be required to view these files.

*Note: This page contains materials in the Microsoft PowerPoint (PPT) format.  The free Microsoft PowerPoint Viewer may be required to view these files.