Skip Global navigation and goto content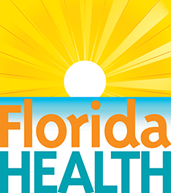 It's a New Day in Public Health.
The Florida Department of Health works to protect, promote, and improve the health of all people in Florida through integrated state, county, and community efforts.
Skip MegaMenu and goto content
Keep it Clean, Cold, and Covered–4th of July Food Safety
July 03, 2013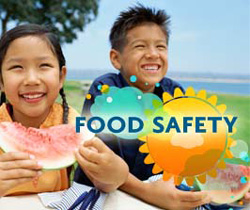 Have you decked out your yard in red, white and blue? Do you have your grill and cooler prepped? It's that time of the year again! It's the Fourth of July, a holiday that's all about celebrating with friends and family, eating your favorite outside faire and watching vibrant fireworks. While this holiday is full of fun, don't let that distract you from the crucial task of keeping yourself safe from foodborne illness.
Food safety is crucial to holiday fun because illnesses resulting from bacteria-ridden food can result in plans gone sour. Each year, one in six Americans (or 48 million people) get sick from preventable illnesses related to food poisoning, and as many as 3,000 die of foodborne diseases every year.
For your Fourth of July festivities, consider these tips to ensure you avoid bacteria that can harm you.
Make sure your cooking area is clean: wash hands, cutting boards, utensils and countertops.
Keep raw meat, poultry, and seafood separate from ready-to-eat foods.
Use a food thermometer to ensure that foods are cooked to a safe internal temperature: 145°F for whole meats (allowing the meat to rest for 3 minutes before carving or consuming), 160°F for ground meats, and 165°F for all poultry.
Keep your refrigerator below 40°F and refrigerate perishable items.
Perishable food items that have been left out of the refrigerator for longer than two hours should be discarded.
To report a suspected illness from food contact your local county health department or go online to complete a food or waterborne illness complaint form.
Don't prepare food for others if you suffer from diarrhea or vomiting.
Be especially careful preparing food for children, pregnant women, those in poor health, and older adults.
Visit FoodSafety.gov for the latest information on preventing food poisoning.
Salmonella, a common food-borne illness, is something all Floridians should be aware of during the summer, when it is most prevalent. People can be exposed to Salmonella a number of ways:eating foods of animal origin which may be contaminated with the bacteria, cross-contamination of foods, contact with reptiles or some other animals, or contact with human waste from a person who is ill with salmonellosis. Good hand hygiene plays a critical role in prevention.
Most holiday gatherings take place outside, which can pose an even greater risk of contaminating food. If you plan on grilling in the summer breeze, keep these important tips in mind:
When transporting food to another location, keep it cold to minimize bacterial growth.
Pack food directly from the refrigerator into the cooler immediately before leaving home.
In hot weather (above 90°F), food should never sit out for more than one hour.
Keep meat and poultry refrigerated until ready to use. Only remove meat and poultry immediately before being placed on the grill.
NEVER partially grill meat or poultry and then finish cooking later.
If you develop diarrhea, fever, and abdominal cramps 12 to 72 hours after eating, contact a physician immediately to determine if it is salmonellosis. Most people recover on their own after four to seven days, but in some cases the diarrhea may be so severe that the individual needs to be hospitalized.The elderly, infants, and those with impaired immune systems are more likely to have a severe illness. Don't let food-borne illness ruin your fun holiday plans. Always remember: keep it clean, keep it cold and keep it covered!
To learn more about the causes and symptoms of Salmonella, visit: www.cdc.gov/salmonella/index.html
For more information on various food-borne illnesses and more ways to keep you safe, visit the CDC's Food Safety page: www.cdc.gov/foodsafety
Additional Resources
For Media Inquiries
Error processing SSI file