Skip Global navigation and goto content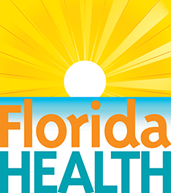 It's a New Day in Public Health.
The Florida Department of Health works to protect, promote & improve the health of all people in Florida through integrated state, county & community efforts.
Skip MegaMenu and goto content
Learn Before You Burn—Facts You Probably Didn't Know About Sun Safety
July 17, 2013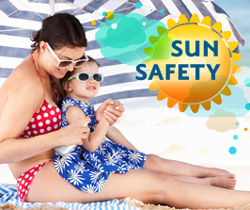 With summer in full swing, bathing suits become a clothing staple and that perfect tan seems ever more necessary. While sun safety reminders have become frequent and likely tiring, we've got just four words to share with you: learn before you burn. You may think you know all about sun safety, but check out the three tips below to make sure you have all your bases covered.
Can't tell if you should bask outdoors or stay inside? There's an app for that!
How badly you burn isn't only dependent on how sunny it is. Solar energy is emitted through visible light, heat, and ultraviolet (UV) rays that you don't see or feel. What does this mean? Even if it's not too sunny or hot, the sun could still be damaging your skin. Sunlight is great for vitamin D, but overexposure can lead to skin cancer, cataracts or eye damage, and premature aging of the skin. Luckily, the National Oceanic and Atmospheric Administration (NOAA) and the Environmental Protection Agency (EPA) have established standards for the UV Index, and indicate how best to protect oneself depending on the intensity of the sun. By visiting www.epa.gov/enviro/mobile, you can determine the UV Index in your area and make sure you're prepared for what the sun has in store. The UV Index ranks solar radiation levels on a 0 to 11+ scale, with 11+ signifying high risk. Not at a computer? Not a problem. The Index is available as a smart phone app, and can be downloaded at the above link.
Sun safety starts with a base tan, right? Tanning bed, here we come!
While hitting the beach with a base tan might sound like a good idea, the Skin Cancer Foundation reminds you that it's not. Nearly 2.3 million American teenagers use indoor tanning services each year, a trend that's troubling because of the connection between tanning beds and skin cancer. Statistics indicate that these tanning aficionados are either unaware or apathetic to warnings about tanning bed dangers.
Skin cancer is the most common type of all cancers, and melanoma the most lethal skin cancer of all. The real problem? An international study on "The Association of Use of Sunbeds with Cutaneous Malignant Melanoma and other Cancers: A Systematic Review" conducted by the International Journal of Cancer finds a particularly strong connection between sunbed use and melanoma. The "base tan" theory that a little bit of color can protect you from the sun is just that—a theory—but many indoor tanning locations tout it regardless. The International Journal of Cancer study reveals that no evidence suggests tanning beds provide a protective layer of tan, reinforcing that indoor tanning should be avoided. More on the study can be found at the Skin Cancer Foundations site, www.skincancer.org/news/tanning/iarc-tanning-link-study.
Sunglasses are sunglasses are sunglasses. They're just a fashion statement, right?
Wrong! Sunglasses are as crucial as sunscreen in ensuring you are safe from the sun. UV radiation isn't only a threat to skin health, but eye health as well. Over-exposure to UV radiation can cause individuals to experience photokeratitis, a temporary but extremely uncomfortable sunburn of the eye. Symptoms include red eyes, gritty feeling in the eyes, sensitivity to light, and extreme tearing. Long-term or frequent short-term exposure to UV radiation can prompt cataract development and may prove harmful to the retina, which can damage vision.
Remember that UV radiation can be emitted during too much time in the sun as well as from artificial sources like tanning beds and lasers. The solution? The American Optometric Association (AOA) recommends sunglasses and wide-brimmed hats as the most effective means of avoiding the harmful effects of UV exposure. While we all love a bargain, the AOA reminds us to look for the following qualities in sunglasses before purchase: they should block out 99 to 100 percent of UV radiation; screen out 75 to 90 percent of visible light; be matched in color and free of damage; and contain gray lenses for color recognition. Visit your optometrist regularly, and be mindful of eye protection when you spend time outdoors. Visit www.aoa.org/patients-and-public/caring-for-your-vision/uv-protection for more information.
Additional Resources