Skip Global navigation and goto content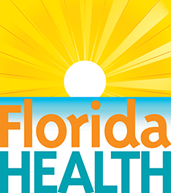 It's a New Day in Public Health.
The Florida Department of Health works to protect, promote & improve the health of all people in Florida through integrated state, county & community efforts.
Skip MegaMenu and goto content
When the Lights Go Out: Keeping Your Family Healthy and Safe During Power Outages
July 29, 2014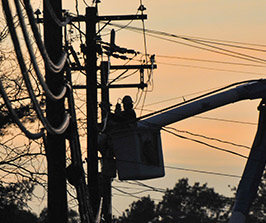 It's summertime in Florida, and when strong storms or extreme weather rolls in, Floridians know this can mean a possible power outage. A good flashlight is only one of the necessary items to have on hand when the lights go out.
Most power outages are caused by damage from trees and tree limbs falling on local electricity lines and poles. Outages can be due to problems at power stations, damage to equipment or the overuse of energy in a particular area—like during a heat wave. Depending on the severity of the outage, it can last a few hours or even several days, and have rippling effects related to everything from keeping food items cold to ensuring a family member who requires oxygen has it. Data also suggests the trend of outages caused by weather-related events is increasing.
As shared, unexpected power outages can be frustrating and troublesome, and can pose health and safety issues, especially for those managing chronic illnesses. Here are some tips to stay healthy during a power outage.
Before an Outage:
Build an Emergency Supply Kit for you, your family and pets; businesses too!
Make a family communications plan.
If you know an outage is coming, fill plastic containers with clean water and place them in your refrigerator and freezer. The chilled or frozen water will help keep food and medications cold during a short power outage.
Keep on hand a few days' worth of ready-to-eat foods that do not require cooking or refrigeration.
Place an appliance thermometer in both your refrigerator and freezer.
During an Outage:
Don't open the fridge or freezer! Keep the cold air in and protect your food from spoiling.
Leave one light on so that you'll know when the power comes back on.
Only use flashlights, NEVER candles. The flames from candles can lead to a bigger risk of fire.
Check with local authorities to be sure your tap water is safe to consume.
If you are on well water, be prepared for pump outages.
If it's very hot outside, try to stay cool by going to the lowest level of your home. Cool air falls, hot air rises. Wear lightweight, light-colored clothing and drink plenty of water, even if you don't feel thirsty. Be sure to give pets lots of fresh water too.
Remember that generators should only be used outside, well away from windows and doors to prevent Carbon Monoxide poisoning.
After an Outage:
When the power comes back on, wait a few minutes before turning on major appliances, to help eliminate problems that could occur if there's a sharp increase in demand.

If you think electric power has been restored to your area yet your home is still without power, call your local power company.
Look in on neighbors, especially older adults or those with access or functional needs, to make sure they are okay.
Safe Drinking Water
When power goes out, water purification systems may not be functioning fully. Safe water for drinking, cooking, and personal hygiene includes bottled, boiled or treated water. Local health departments can make specific recommendations for boiling or treating water for your area. Use only bottled, boiled, or treated water until your supply is tested and found safe.
Boiling water, when practical, is the preferred way to kill harmful bacteria and parasites. Bringing water to a rolling boil for 1 minute will kill most organisms.
Do not use contaminated water to wash dishes, brush your teeth, wash and prepare food, wash your hands, make ice, or make baby formula. If possible, use baby formula that does not need to have water added.
If you don't have clean, safe, bottled water and if boiling is not possible, you often can make water safer to drink by using a disinfectant, such as unscented household chlorine bleach. This can kill most harmful organisms, such as viruses and bacteria. However, only chlorine dioxide tablets are effective in controlling more resistant organisms, such as the parasite Cryptosporidium.
To disinfect water:
Filter it through a clean cloth, paper towel, or coffee filter OR allow it to settle.
Draw off the clear water.
When using household chlorine bleach:

Add 1/8 teaspoon (or 8 drops) of unscented liquid household chlorine (5–6%) bleach for each gallon of clear water (or 2 drops of bleach for each liter or each quart of clear water).
Add 1/4 teaspoon (or 16 drops) of bleach for each gallon of cloudy water (or 4 drops of bleach for each liter or each quart of cloudy water).
Stir the mixture well.
Let it stand for 30 minutes or longer before you use it.
Store the disinfected water in clean, disinfected containers with tight covers.
Safe Medications
For older adults and those who are chronically ill, being aware of what's needed for your medications when the power goes out is important. Insulin and some liquid medications may require refrigeration. Reusable cold bags containing a frozen cold pack can help keep medications cool.
It's always a good idea to have a record of medications written up in advance. Keep a piece of paper or a computer accessible file with the names and dosages for each of your prescription drugs in a safe place for emergencies.
Access and Functional Needs
If you use a battery-operated wheelchair, life-support system or other power-dependent equipment, call your power company before a power outage occurs. Many utility companies keep a list and map of the locations of power-dependent customers in case of an emergency. Contact the customer service department of your local utility to learn if this service is available in your community.
Have an extra battery if you use a motorized wheelchair or scooter. A car battery also can be used with a wheelchair; however, it will not last as long as a wheelchair's deep-cycle battery. If available, have a lightweight manual wheelchair for backup.
Have a talking or Braille clock or large-print timepiece with extra batteries if you are blind or have a visual disability.
Consider getting a small portable battery-operated television set if you are deaf or have a hearing loss. Emergency broadcasts may give information in American Sign Language (ASL) or open captioning.
What's for Dinner
It's a challenge to keep food at a healthy temperature during a power outage. A refrigerator will keep food safely cold for about 4 hours if it is unopened. A full freezer will hold the temperature for approximately 48 hours (24 hours if it is half full) and the door remains closed, according to the U.S. Department of Agriculture.
Discard any perishable food (such as meat, poultry, fish, eggs or leftovers) that has been above 40° F for two hours or more.
The U.S. Department of Health & Human Services website, www.FoodSafety.gov has helpful charts to determine what foods are still safe to eat after a power outage.
The Department emphasizes "When in doubt, throw it out." Don't rely on a taste-test.
Power outages can occur for a multitude of reasons; yet, whatever the reason, Floridians can plan and stay safe during an outage.
As with any emergency, it just makes sense to prepare for a power outage. Having an emergency plan and supply kit is key to keeping your family healthy and safe. With these, a day without power may be a temporary nuisance, not a hazard.
For more information, visit the Florida Department of Health's Hurricane and Severe Weather Information page here: http://www.floridahealth.gov/programs-and-services/emergency-preparedness-and-response/prepare-yourself/current-hazards/hurricane-info.html.
And visit the Centers for Disease Control and Prevention's (CDC) Power Outages page here: http://emergency.cdc.gov/disasters/poweroutage/index.asp.