Skip Global navigation and goto content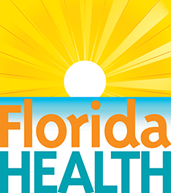 It's a New Day in Public Health.
The Florida Department of Health works to protect, promote & improve the health of all people in Florida through integrated state, county & community efforts.
Skip MegaMenu and goto content
Measles
Florida Health
Disease Control
 

Florida Health

4052 Bald Cypress Way 

Tallahassee, FL 32399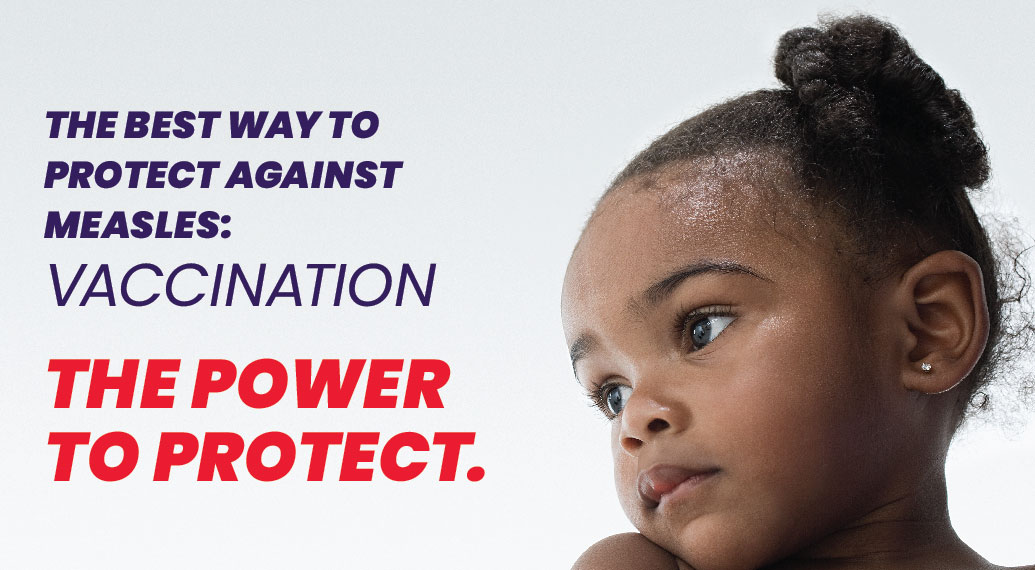 What is measles?
Measles is a highly contagious, vaccine-preventable disease.
Although it is usually considered a childhood disease, it can be contracted at any age. Generally, preschool children, adolescents and inadequately immunized individuals comprise the majority of measles cases in the United States.
What are the symptoms of measles?
Symptoms typically appear 7 to 14 days after a person has been infected and include:
High fever
Cough
Runny nose
Red, watery eyes
Within 3 to 5 days, a rash often develops on the face and neck, and can spread to the rest of the body.
How can people prevent catching measles?
The best way to prevent measles is to get vaccinated.
Health care providers and county health departments offer the MMR vaccine, which prevents measles, mumps and rubella.
What are the possible health complications from measles?
Anyone can get measles: children under 5 years old and adults over 20 years old are more likely to suffer complications from measles.
Ear infections occur in about 1 in 10 children who catch measles. Permanent hearing loss is possible.
Diarrhea occurs in about 1 in 10 people who catch measles.
Pneumonia occurs in about 1 in 20 children who catch measles. Pneumonia is the most common cause of death from measles in young children.
Encephalitis (swelling of the brain) occurs in about 1 in 1,000 children who catch measles. Encephalitis can lead to convulsions, deafness or intellectual disabilities.
Death occurs in about 1 or 2 out of 1,000 children who catch measles.
Pregnant women who catch measles are at risk of premature birth or have a low-birth-weight baby.
People with compromised immune systems, such as from leukemia and HIV infection, may be especially at risk for measles complications.
Who is at risk of getting measles?
People who are unvaccinated or inadequately vaccinated for measles.
People with compromised immune systems.
People who traveled to international and domestic geographic regions with ongoing measles outbreaks.
People who have been exposed to someone with measles.
What should I do if I think my child or a loved one may have measles?
First, call your health care provider, facility or county health department and let them know your concerns. DO NOT go directly to your health care provider's office or facility, or the county health department.

A health care provider or a county health department official will give you instructions on getting seen in a timely manner, and how you can avoid exposing other people to measles.
Measles Surveillance
January, 2020
January Key Points
100% cases had no
known vaccination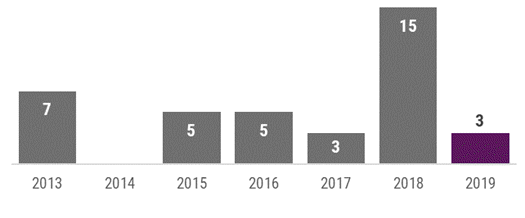 In January 2020, 1 measles cases was reported. Fewer than 10 cases were reported each year from 2013 to 2017, and a total of 15 cases were reported in 2018.

A total of 790 people who had possible exposure to the measles case reported in January have been identified during the ongoing investigation. There were 3 main exposure settings, with the most contacts identified in a university setting.
Contact investigations are conducted to determine the vaccination status of those potentially exposed to measles, identify new cases, and prevent further transmission.
100%
No known
vaccination
Vaccination is the best way to prevent measles infections. The measles case reported in January occurred in an individual whose vaccination status could not be confirmed.
Due to generally high vaccination rates, measles in Florida is rare but occurs every year and is most often associated with international travel. The case reported in January 2020 had recent international travel to Brazil.
National and International activity
Even though measles has been eliminated in the United States since 2000, cases occur every year, mostly among unvaccinated individuals. As of January 31st, 5 confirmed cases of measles have been reported by 5 states in 2020. The 2-dose measles vaccination schedule has been successful at decreasing cases.
Recently, increased measles activity has been reported all over the world. The Centers for Disease Control and Prevention (CDC) issued a Level 1 Travel Alert for several countries with measles outbreaks, including Brazil. Travelers to these countries should make sure they are vaccinated against measles with the MMR (measles, mumps, and rubella) vaccine. For more information, please visit CDC's Travel Health Notices webpage.
*Note: This page contains materials in the Portable Document Format (PDF). The free Acrobat Reader may be required to view these files.