Skip Global navigation and goto content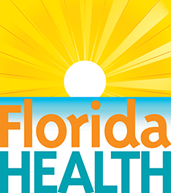 It's a New Day in Public Health.
The Florida Department of Health works to protect, promote, and improve the health of all people in Florida through integrated state, county, and community efforts.
Skip MegaMenu and goto content
Left navigation requires javascript to be enabled in your browser.
Respiratory Illness
Florida Health
Disease Control
 

Florida Health

4052 Bald Cypress Way 

Tallahassee, FL 32399



Respiratory Viruses in Florida
Respiratory viruses include a large number of common viruses that may cause both upper and lower respiratory tract symptoms.
One of the most common respiratory viruses is the influenza virus, also known as the flu. The flu virus affects the nose, throat and lungs, and can lead to serious lung infections, such as pneumonia.
Respiratory viruses are spread by direct contact with a person who has a virus (particles in the air can spread through coughing or sneezing) and indirect contact with a person who has a virus (particles can remain on items infected people have touched, like tissues and public transport railings as well as being spread through the air).
If you have asthma or other chronic respiratory illnesses, regularly discuss and follow health care provider recommendations to control the pre-existing respiratory condition as you may be at increased risk of severe illness from respiratory infection.
Follow these five steps to help protect yourself and others from respiratory illness:
Wash your hands often with soap and water. If soap and water are not available, use and alcohol-based hand rub.
Avoid close contact, such as touching and shaking hands, with people who are sick.
Clean and disinfect frequently touched surfaces.
Stay home when you are sick and keep children home when they are sick.
Cover your mouth and nose when sneezing and coughing. If you don't have a tissue, cough or sneeze into your upper sleeve or elbow, not your hands.
Influenza (flu)
Respiratory syncytial virus (RSV)
COVID-19
Influenza, or commonly refered to as the flu, is a respiratory infection caused by a variety of flu viruses spread primarily by droplets made when infected people cough, sneeze, or talk. Less often, a person might become infected with flu by touching a surface or object contaminated with flu virus and then touching their own mouth, eyes, or nose. Influenza-like illness (ILI) is defined as the presence of fever and cough or fever and sore throat without a laboratory-confirmed etiology.
How do you know if it is the flu?
Body aches and pains
Cough and chest discomfort which may become severe
Early and significant exhaustion
Fatigue and weakness that may last up to 2-3 weeks
Headache
High fever (102-104 degrees F) for 3-4 days
Occasional stuffy nose, sneezing and sore throat
What to do if you get the flu?
Stay home until at least 24 hours after their fever is gone without the use of fever-reducing medications, or after symptoms have improved (at least 4-5 days after flu symptoms started).
Consider layered apparel for body temperature changes.
Do not share cups and eating utensils.
Do not take aspirin products without physician approval.
Drink plenty of fluids.
Get plenty of rest.
Over-the-counter cold or cough medicines may also relieve some flu symptoms. Check with your doctor.
Sleep and take it easy.
Take acetaminophen (such as Tylenol) or ibuprofen (such as Advil or Motrin) to relieve your fever and aches. 
Wash your hands frequently.
Most people who get the flu recover without having to see their healthcare provider. If your flu symptoms worsen, you have a high temperature for more than a few days, or if you seem better but then feel worse, call your healthcare provider right away.
Season
The flu reporting year uses standard reporting weeks outlined by the Centers for Disease Control and Prevention (CDC), where every year has 52 or 53 reporting weeks.
In Florida, the 2022–23 flu year began October 2, 2022 (week 40). Though flu season ends May 20, 2023 (week 20), surveillance continues year-round.
Seasons vary in timing, severity, and duration. It is not possible to predict what the 2022–2023 flu season will be like in Florida. 
County Flu and Influenza-like Illness Activity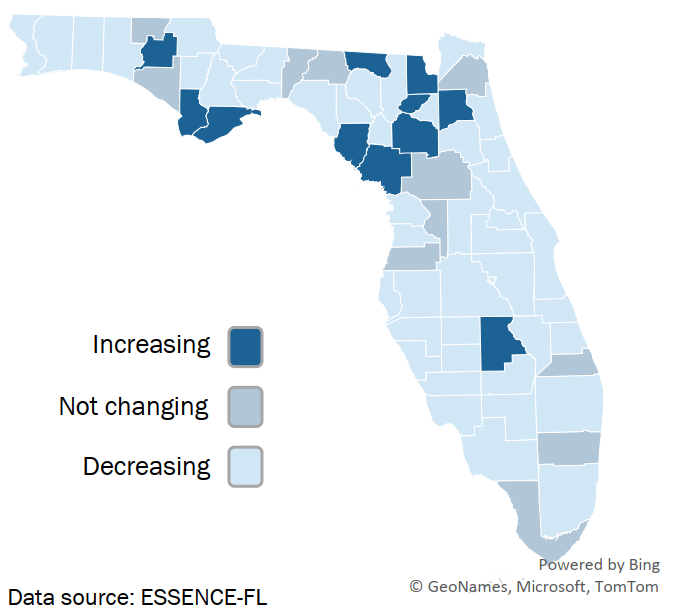 Respiratory syncytial virus (RSV) is a common respiratory virus that usually causes mild, cold-like symptoms. Young children and older adults, especially those with certain underlying health conditions, are at higher risk for severe illness from RSV.
Individual cases of RSV are not reportable in Florida. All outbreaks of RSV are reportable. The Florida Department of Health will continue to make updates on the trends presented in this report as needed.
How do you know if it is RSV?
If you have infected RSV, you will typically begin to show symptoms within 4 to 6 days. Common RSV symptoms include:
Runny nose
Decrease in appetite
Coughing
Sneezing
Fever
Wheezing
What to do if you get RSV?
Stay home while you have symptoms. People infected with RSV are usually contagious for 3 to 8 days and may become contagious a day or two before they start showing signs of illness.
Most RSV infections go away on their own in a week or two.
Manage fever and pain with over-the-counter fever reducers and pain relievers, such as acetaminophen or ibuprofen. (Never give aspirin to children.)
Drink enough fluids. It is important for people with RSV infection to drink enough fluids to prevent dehydration (loss of body fluids).
Talk to your healthcare provider before giving your child nonprescription cold medicines. Some medicines contain ingredients that are not good for children.
Season
Due to Florida's warmer climate, RSV season is longer than the rest of the nation and has distinct regional patterns. For this reason, the state is broken up into five RSV regions, each with their own RSV season.
The Florida Department of Health established regional RSV seasons based on activity thresholds provided by the U.S. Centers for Disease Control and Prevention.
Florida RSV Regions
| | |
| --- | --- |
| Northwest | October-April |
| North | September-March |
| Central | August-March |
| Southeast | January-December |
| Southwest | September-April |
How do you know if it is COVID-19?
People with COVID-19 have had a wide range of symptoms reported – ranging from mild symptoms to severe illness. Symptoms may appear 2-14 days after exposure to the virus. Anyone can have mild to severe symptoms.
Common COVID-19 symptoms include:
Fever or chills
Cough
Shortness of breath or difficulty breathing
Fatigue
Muscle or body aches
Headache
New loss of taste or smell
Sore throat
Congestion or runny nose
Nausea or vomiting
Diarrhea
What to do if you get COVID-19?
If you are sick with COVID-19, stay home. Most people with COVID-19 have mild symptoms that do not require medical treatment
Do not share cups and eating utensils
Drink plenty of fluids
Get plenty of rest