Skip Global navigation and goto content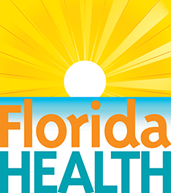 It's a New Day in Public Health.
The Florida Department of Health works to protect, promote & improve the health of all people in Florida through integrated state, county & community efforts.
Skip MegaMenu and goto content
Red, White and You: Stay Safe This 4th of July
June 19, 2013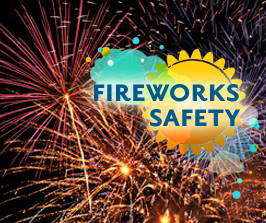 Red, White and You: Stay Safe This 4th of July by Practicing Fireworks Safety
Parades, outdoor grilling, flag waving, and spectacular fireworks displays make every July 4th celebration memorable. However, misusing consumer fireworks can turn a celebration into a painful memory when an accident occurs. Every year, thousands of firework-related injuries are treated in hospital emergency rooms across the country. To make matters worse, many of those rushed to the emergency room are children, as the risk of fireworks injury is highest among kids aged 5–19 and adults 25–44.
Fireworks, if used improperly, can result in injury to the eyes of a child or adult as well as varying degrees of burns on the skin.
This 4th of July, take these simple steps before, during and after using consumer fireworks to keep you, your family and pets healthy, and your celebration safe.
Be prepared:
Know and follow all county and city fireworks laws for your area.
Never use homemade and/or illegal fireworks.
Clear away any dry vegetation and debris from where fireworks will be ignited.
Always have a water source, full bucket of water and/or fire-extinguisher close at hand.
Make sure your pets are indoors before you begin, to reduce the risk they will run loose or get injured. Animals have sensitive ears and can be frightened or stressed during a fireworks celebration.
While celebrating:
Be sure those watching are at a safe distance from where fireworks are being ignited.
Use safety eyewear, glasses or goggles to protect your eyes while igniting fireworks.
Never carry fireworks in a pocket or shoot them off in metal or glass containers.
Do not allow children to play with or light fireworks.
Sparklers should only be used under close adult supervision. (While often considered a "safe" firework for the young, the tip of a sparkler burns at 1,200 degrees or higher which can cause third degree burns.)
If a firework does not light or fire, let it sit for at least 20 minutes then carefully place it in a bucket of water.
Clean up:
Make sure fireworks are cold before handling and place all used fireworks into a bucket of water.
Clean up all debris.
Be sure matches, lighters and any unused fireworks are out of the sight and reach of children before, during and after your celebration.
Check with your local fire and police departments for guidance on permitted fireworks and appropriate safety precautions. In a typical year, the number of reported fires in the U.S. is substantially higher on July 4th. It's estimated that consumer fireworks account for almost half of these reported fires, more than any other potential cause. It's important to understand the hazards posed by consumer fireworks and to protect your family, home, and property from the potential danger.
To avoid these risks, take your family to enjoy a public fireworks display conducted by trained professionals instead.
Make new memories this 4th of July, but make them safely. Watch out for family and friends as you share a healthy and safe holiday celebrating America's independence.
The
Florida Forestry Service
has a web page that lists burn bans and fireworks bans, if in place, by county.