Skip Global navigation and goto content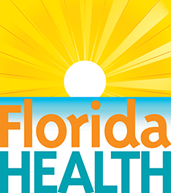 It's a New Day in Public Health.
The Florida Department of Health works to protect, promote & improve the health of all people in Florida through integrated state, county & community efforts.
Skip MegaMenu and goto content
Planning to Catch a Few Rays? Here's What You Need to Know
May 14, 2014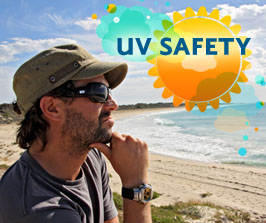 Did you know modest amounts of ultraviolet (UV) exposure, by way of the sunlight, are actually a part of good health? Vitamin D is produced when the skin is exposed to UVB (short UV rays that come from the sun) in small amounts. Vitamin D helps regulate calcium levels in the blood and is needed for bone and musculoskeletal health. UV radiation has also been used by trained medical professionals to treat skin conditions such as psoriasis. Too much UV exposure, including exposure via indoor tanning, can cause cancer.
The World Health Organization recommends 5–15 minutes of casual sun exposure twice a week. More UV exposure than that can have adverse health effects. According to the Centers for Disease Control and Prevention (CDC), indoor tanning methods such as using a booth, bed or lamp can cause cancers including skin cancers (melanomas) and cancers of the eye.
Q: What is the difference between UVA rays and UVB rays?
A. According to the U. S. Department of Health and Human Services Food and Drug Administration, "UVB rays penetrate the top layers of skin. UVB rays are not as prevalent as UVA rays, but are most responsible for tanning and sunburns. UVA rays penetrate to the deeper layers of the skin and are often associated with allergic reactions such as a rash." Short-wavelength UVB is a known carcinogen—an agent that causes cancer, premature skin aging, and wrinkling. Researchers are finding that longer-wavelength UVA rays also contribute to cancer.
Q: What UV exposure do you get from indoor tanning?
A. Tanning beds can emit both UV rays but primarily UVA. The high-pressure sunlamps used in tanning salons emit doses of UVA as much as 12 times that of the sun.
Q: Does Florida require any cancer-related warning information about UV exposure to be available at tanning facilities?
A. Yes. Warning signs must be posted in conspicuous places in the tanning facility and similar warning signs must be imprinted on each tanning device used at the salon.
The sign must state the following warning and instructions:
DANGER, ULTRAVIOLET RADIATION
Follow these instructions:
Avoid frequent or lengthy exposure. As with natural sunlight, exposure can cause eye and skin injury or allergic reactions. Repeated exposure can cause chronic sun damage characterized by wrinkling, dryness, fragility and bruising of the skin or skin cancer.
Wear protective eyewear. FAILURE TO USE PROTECTIVE EYEWEAR CAN RESULT IN SEVERE BURNS OR LONG-TERM INJURY TO THE EYES.
Ultraviolet radiation from sunlamps will aggravate the effects of the sun. Therefore, do not sunbathe before or after exposure to ultraviolet radiation.
Using medications or cosmetics can increase your sensitivity to ultraviolet radiation. Consult a physician before using a sunlamp if you are using medications, have a history of skin problems, or believe you are especially sensitive to sunlight. Women who are pregnant or on birth control that use this product can develop discolored skin. IF YOU DO NOT TAN IN THE SUN YOU WILL NOT TAN BY USING THIS DEVICE.
Florida's tanning facility operational requirements are found in Chapter 64E-17, Florida Administrative Code (F.A.C.) and 381.89, Florida Statutes (F.S.). More information can also be found at http://www.floridahealth.gov/healthy-environments/tanning-facilities/_documents/IndoorTan.pdf
Q: Is there any correlation between a person's age and their risk of cancer from tanning?
A. According to the Centers for Disease Control and Prevention web site, people who begin tanning before they're 35 have a 75% higher risk of melanoma. Furthermore, the World Health Organization writes, "The United States Department of Health and Human Services has classified exposure to sunlamps or sunbeds as 'known to be carcinogenic to humans' and states that the longer the exposure, the greater the risk, especially to people exposed before the age of 30 years."
According to the 2009 Centers for Disease Control Youth Risk Behavior Surveillance System, the following percent of youths report indoor tanning:
16% of all high school students.
25% of high school girls.
33% of girls in the 12th grade.
27% of women aged 18–29 years reported indoor tanning.
Additional Resources