Skip Global navigation and goto content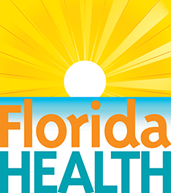 It's a New Day in Public Health.
The Florida Department of Health works to protect, promote, and improve the health of all people in Florida through integrated state, county, and community efforts.
Skip MegaMenu and goto content
Left navigation requires javascript to be enabled in your browser.
Dengue Fever
Florida Health
Disease Control
 

Florida Health

4052 Bald Cypress Way 

Tallahassee, FL 32399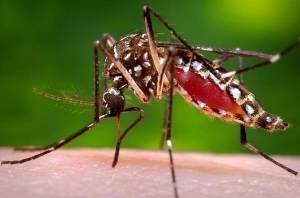 Dengue fever is an important mosquito-borne disease worldwide. It is caused by four related dengue viruses (DEN-1, DEN-2, DEN-3, DEN-4) that are related to the viruses that cause West Nile infection and yellow fever.
The CDC - Dengue Clinical Case Management Course is designed to provide information to enable physicians to recognize dengue cases early in the clinical course, assess patients appropriately, and provide timely treatment. This course is free and CMEs and CEUs are available.
CDC Dengue for Florida Clinicians Training (taped Nov 15, 2019)
CDC Dengue IgM and IgG Antibody Response during Primary and Secondary Dengue Infections:
There are four different dengue viruses (dengue viruses 1-4).
A person can be infected with each of these four viruses during their lifetime.
It takes 4-7 days for IgM antibody to be produced.
For these reason, CDC recommends polymerase chain reaction (PCR) testing or non-structural protein (NS1) testing during the first week of illness. This is particularly important for those who may have had previous exposure to dengue virus.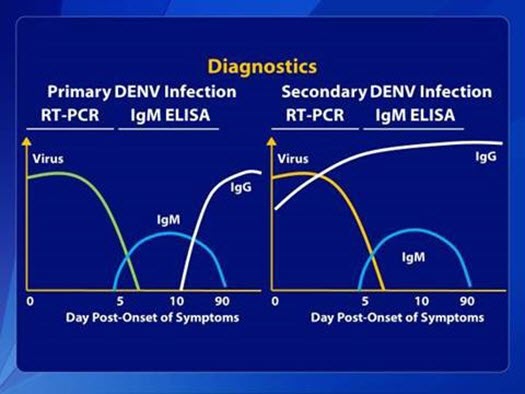 Symptoms and Treatment
Transmission
Dengue Occurrence in Florida
Information for Travelers
Information for Physicians and Health Care Providers
Resources and References
Symptoms
Dengue fever can be a painful, debilitating disease but is rarely fatal. Symptoms appear 3-14 days after the bite of an infected mosquito and include sudden onset of fever, severe headache, eye pain, muscle and joint pain (giving the disease the nickname "breakbone fever"), and bleeding. Gastrointestinal symptoms like vomiting and diarrhea may also be present in some cases. Dengue fever symptoms usually lasts 4-7 days. The disease is often diagnosed incorrectly because the symptoms are similar to influenza and other viruses.
Dengue hemorrhagic fever is a rare but more severe form of dengue infection that can be fatal if not recognized and treated with supportive care. The primary risk factor for hemorrhagic fever is previous infection with a different dengue serotype (i.e. getting DENV-2 if you have already DENV-1 puts you at increased risk of hemorrhagic fever).
Treatment
There is no treatment for dengue fever or dengue hemorrhagic fever, but quick recognition and management of symptoms and complications is effective at preventing deaths. There is currently no vaccine for dengue and the research has been challenging due to variation in the four viral types, but multiple vaccine candidates are currently in development.
Dengue infection is acquired through the bite of certain species of mosquitoes, primarily Aedes aegypti, but also Aedes albopictus, both of which are present in Florida.
Chikungunya and Dengue
It is important to note that a person can be infected with chikungunya and dengue viruses at the same time as they are both carried by the same types of mosquitoes. Therefore, it is important that providers consider both dengue fever and CHIK when evaluating suspect cases with travel to areas where both viruses are present. Testing is the only way for a health care provider to definitively differentiate CHIK and dengue fever.
While previously present in Florida, the virus was eliminated from the United States several decades ago. Since then, a small number of cases have been reported each year in individuals with recent travel history to a dengue-endemic country. Until 2009, there were no reports of dengue acquired in Florida since 1934. In 2009 -2010, an outbreak of dengue was identified in Key West. A total 22 persons were identified with dengue fever in Key West during the summer and fall of 2009. In 2010, 66 cases of locally acquired dengue associated with Key West were reported in Florida with onset dates between March and November 2010.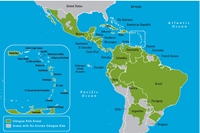 Several cases are reported in Florida each year in people traveling to areas where the disease is present. These imported cases are usually from dengue endemic regions such as the Caribbean, Central and South America, and Asia. The close proximity of areas with dengue such as Puerto Rico and frequent international travel in Florida residents and immigrants makes it possible to have dengue re-introduced. Several transient dengue introductions have been identified in Florida since the Key West outbreak. There was also a Martin County outbreak in 2013. In 2020, dengue transmission was detected in Key Largo.  For current case counts please see FloridaHealth.gov.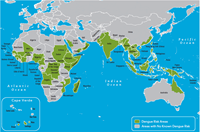 There is some evidence that the United States lifestyle, such as routine use of air conditioning and screened windows, as well as spending more time indoors, may protect us from having large outbreaks.
If you are traveling to a tropical or sub-tropical area (Africa, Asia, Caribbean, Central and South America), you can protect yourself from dengue and other mosquito-borne diseases by following the suggestions on our Prevention page, including using insect repellent. You can get more information about Traveler's Health from CDC - Travel & Dengue Outbreaks.
To see a list of travel health notices issued by the Centers for Disease Control and Prevention please visit:http://wwwnc.cdc.gov/travel/notices
Resources
CDC Map of Arboviral Disease Activity in the United States
Mosquito-borne disease prevention tips
Centers for Disease Control and Prevention(CDC)
Dengue brochure from CDC: English   Spanish (160 KB PDF)
How to prevent the spread of the mosquito that causes dengue (English and Spanish) (282 KB PDF)
CDC Current International Dengue Outbreaks
References
Radke EG, Gregory CJ, Kintziger KW, Sauber-Schatz EK, Hunsperger EA, Gallagher GR, et al. Dengue outbreak in Key West, Florida, USA, 2009. Emerg Infect Dis. 2011 Jan.
Kyle J, Harris E. Global Spread and Persistence of Dengue.  Annual Review of Microbiology. 2008; 62: 71-92.
Wilder-Smith A, Schwartz E. Dengue in Travelers. New England Journal of Medicine. 2005; 353(9): 924-932.
Reiter P, Lathrop S, Bunning M, Biggerstaff B, Singer D, et al. Texas Lifestyle Limits Transmission of Dengue Virus.  Emerging Infectious Diseases. 2003; 9(1): 86-89.