Skip Global navigation and goto content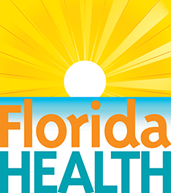 It's a New Day in Public Health.
The Florida Department of Health works to protect, promote, and improve the health of all people in Florida through integrated state, county, and community efforts.
Skip MegaMenu and goto content
Left navigation requires javascript to be enabled in your browser.
Count the Kicks
Contact the Maternal and Child Health Section
 

Fax

850-245-4047
 

Mailing Address

Maternal and Child Health Section 

4052 Bald Cypress Way, Bin A13 

Tallahassee, FL 32399-1721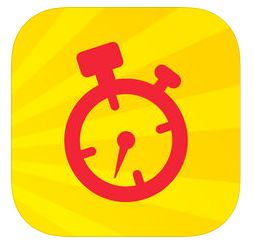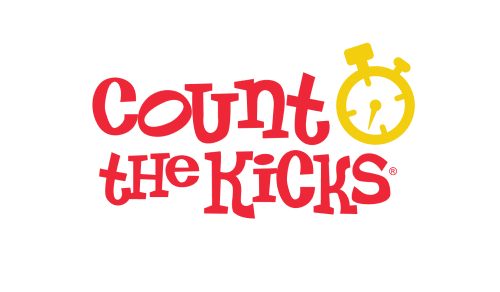 Count the Kicks is an evidence-based stillbirth prevention and awareness program that teaches expectant parents the method for, and importance of, tracking fetal movement daily during the third trimester of pregnancy.
The Florida Department of Health is excited to share with expectant parents and providers this evidence-based program designed to prevent stillbirths.
Parent Resources
Provider Resources
Video Archive
Why Count?
Counting kicks, jabs, pokes and rolls is a free, noninvasive way to check on your baby's well-being. It's also a great way to bond with your baby during pregnancy. A change in movement, whether a decrease or rapid increase, is sometimes the earliest or only indication that your baby should be checked by your health care provider. It's also important to pay attention to the strength of your baby's movements and notify your provider if your baby's movements become weaker.
Counting your baby's movements every day in the third trimester is easy to do. Just follow these simple steps: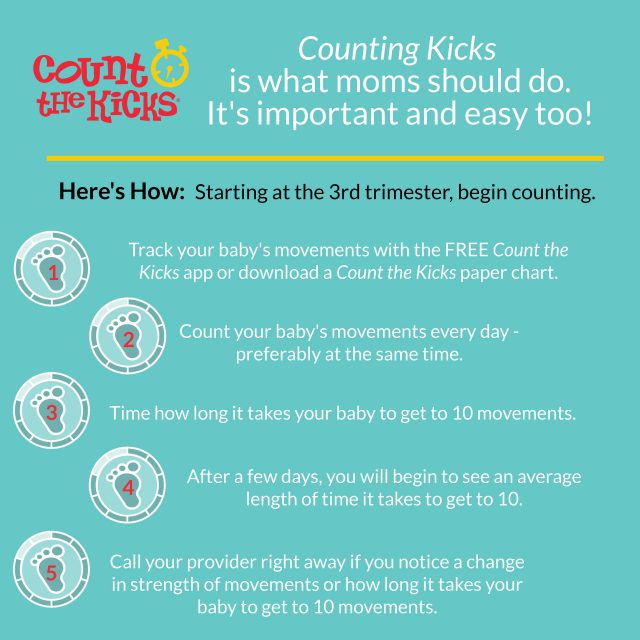 (Scroll Over to Expand)
Helpful Tips When Counting Kicks
Pick a time when your baby is usually active. Research shows that babies are often the most active at night.
To get started, sit with your feet up or lie on your side. Count each of your baby's movements (kicks, jabs, pokes and rolls) as one kick and tap the foot on the app until you reach 10 movements.
Every pregnancy and every baby are different. For example, Sarah may be able to record 10 movements for her baby in 10 minutes, but Megan's baby may take 30 minutes to record 10 movements. If Sarah finds that it is taking her baby an hour to record 10 movements, she knows that is a change in her baby's normal movement pattern, so she should contact her health care provider right away. The most important thing is to count your baby's kicks every day so you will know what is normal for YOUR baby.
Babies don't run out of room or slow down at the end of pregnancy. Babies should move up to and even during labor.
Watch: How to Count Kicks
Download the Free App 
Every kick counts, especially with the FREE Count the Kicks app!
Count the Kicks is a safe and simple way to help monitor the well-being of your baby. Use this app every day during your third trimester of pregnancy to track your baby's movement patterns.
The app is available in 12 languages: Amharic, Arabic, Chinese, English, French, Haitian-Creole, Hindi, Marshallese, Russian, Spanish, Swahili and Vietnamese.
Be sure to alert your provider immediately if you notice a change in the strength of your baby's movements or how long it takes your baby to get to 10 movements. Don't wait!
Android Users: Click 
HERE
Download the Printable Kicks Chart:
For more information, visit www.CountTheKicks.org today
Here's What You Can Do
As a health care provider, you may have experienced a patient suffering a stillbirth and understand the emotional and physical pain felt not only by the family but also the entire medical team.
There are approximately 1,500 stillbirths a year in Florida. By implementing Count the Kicks and sharing the app with expectant parents, we have the chance of saving babies from preventable stillbirths every year.
Watch: How to Implement Count the Kicks
Getting Started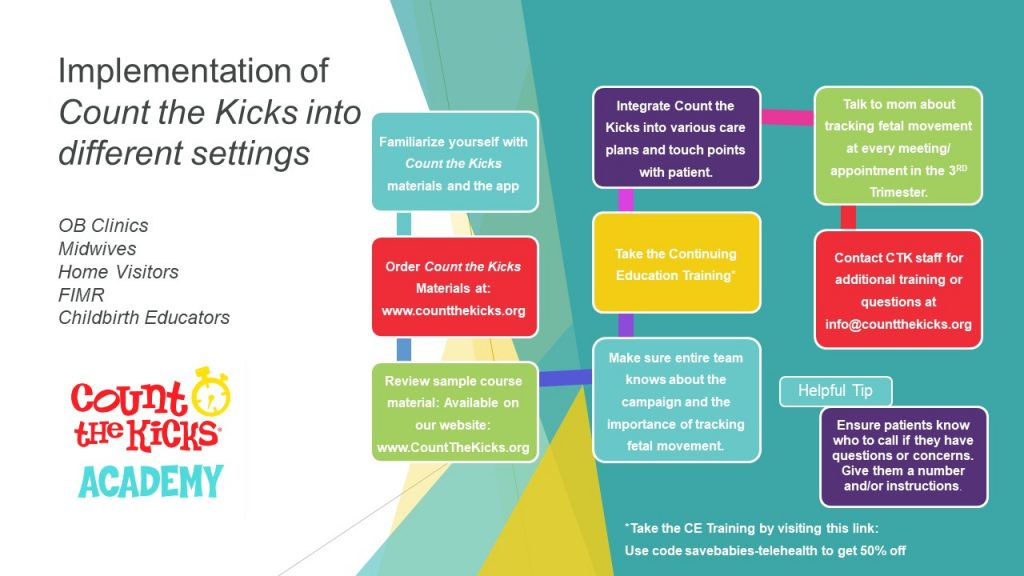 (Scroll Over to Expand)
Free Count the Kicks materials are available to health care professionals. Order Count the Kicks educational materials, including posters, brochures, and app reminder cards, available in English, Spanish and Haitian Creole.  
Start talking to expectant moms about Count the Kicks during their glucose screening, and at every appointment in the third trimester.
Invite expectant moms to download the FREE Count the Kicks app and encourage them to share kick counting data with you at every appointment.
Educate patients on how to get in touch with your office in the event that they notice a change in their baby's movement.
Watch: Count the Kicks FAQ
Trainings 
To view more materials and tools to help you get started with Count the Kicks visit www.CountTheKicks.org today.
To find more Florida specific information, materials, and webinars click here.