skip to content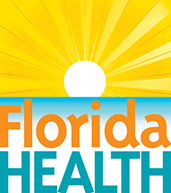 It's a New Day in Public Health.
The Florida Department of Health works to protect, promote & improve the health of all people in Florida through integrated state, county, & community efforts.
skip to content
HIV Data Center
HIV/AIDS
 

Mailing Address

HIV/AIDS Section 

4052 Bald Cypress Way 

Tallahassee, FL 32399 
HIV/AIDS Surveillance Program Guides Public Health Services
The HIV/AIDS surveillance program plays a vital role in how Florida determines HIV/AIDS resource needs, program planning and evaluation. The goal is to collect complete and accurate data, and analyze trends in HIV/AIDS. HIV/AIDS staff and county partners use these data to plan, carry out and evaluate HIV/AIDS programs and interventions.
Each year, the HIV/AIDS data for the previous calendar year are finalized on June 30th. Figure 1 (below) depicts a summary of newly diagnosed cases of HIV Infection from the last six years, as of June 30th, 2016. An Annual HIV/AIDS Surveillance Summary Report is updated each year. The most recent report can be found under the Epi Profiles link.
Additional summary data are stored in Florida Community Health Assessment Resource Tool Set (Florida CHARTS), the Florida Department of Health's (FL DOH) database used to track the health status of the state. Health statistics for HIV, AIDS and HIV-related deaths can be found at this web link: http://www.floridacharts.com/charts/CommunicableDiseases/default.aspx.
What is the difference between diagnosis and report?
Florida tracks HIV/AIDS cases by the year they were diagnosed and by the year they are reported.
Year of diagnosis is defined as the year a person is first diagnosed with HIV/AIDS.
Year of report reflects the year the patient's case is first reported to FL DOH and entered into the enhanced HIV/AIDS Reporting System.
The year of diagnosis and the year of report may be different for each case because there are specific requirements set by the CDC for when an HIV/AIDS case is considered reportable, even though the person has been diagnosed. There are many criteria that determine whether or not a case is reportable.
The following are examples of how HIV cases are diagnosed and reported:
In December 2015, a patient tested positive for HIV at a local hospital and met the reporting requirements for HIV. The hospital nurse reported the HIV case to the local county health department in January 2016. The new HIV case was entered into the HIV/AIDS Reporting System database in January 2016. In this scenario, the year of diagnosis is 2015 and the year of report is 2016.
A person living with HIV moves to Florida in February 2014 and visits a doctor in order to receive care and treatment. The patient reports a history of HIV in Texas. The physician in Florida orders a viral load test on the patient and the result is an undetectable viral load. The patient is currently not reportable because the case does not meet CDC's case definition for a reportable case. In September 2014, the physician orders another viral load test and the result is a detectable viral load. The case is then reported to the county health department as a new diagnosis for Florida. The case is entered in the HIV/AIDS Reporting System database on October 2014. After surveillance staff follows up on the patient's report of previous history in Texas, it is determined the patient's first date of diagnosis is November 2005. In this scenario, the year of report is 2014 and year of diagnosis is 2005. However, once it is determined that the first diagnosis took place in Texas, the patient is no longer part of the Florida diagnosis case count. 
Figure 2 (below) is an annual snapshot of newly reported cases of HIV Infection from the last six years. Please note that the data points for each year of this graph were as of December 31st of each year.
The CDC's Routine Interstate Duplicate Review (RIDR) Process
Florida sends a computer created identifier using components of the person's name, gender and date of birth to the CDC along with other demographic, clinical and behavioral information. The CDC studies the information from all of the states, detects cases that may be duplicates and sends the lists to the respective states for deduplication. States then work together to resolve potential duplicates by discussing case information. Outcomes can include no match (they are different people) or match. Matches are duplicates, and the states must decide which state should retain the case based on where the case was first diagnosed with HIV. The state that retains the case will include it in their analysis of HIV/AIDS surveillance data.
Florida's HIV/AIDS Surveillance and Routine Interstate Duplicate Review (RIDR)
Where do the deduplicated cases go?
FAQ
A strong reporting infrastructure within the 67 counties is the cornerstone of HIV surveillance in Florida. The state is divided into 17 areas, each led by a county health department (CHD) that works with program staff to coordinate surveillance activities for their area.
Florida's HIV/AIDS surveillance relies on electronic laboratory reporting. Currently, any person in charge of a laboratory that receives an HIV test order, or processes an HIV test, is required to report positive results to their local CHD within three business days (laboratories must also report all viral loads, p24 antigen, viral cultures, CD4 absolute count and percent of total lymphocytes). Health care providers who initiate an order resulting in a positive HIV test or who diagnose HIV in a patient, must report the diagnosis to their local CHD. Health care providers must also report all HIV-exposed newborns or infants less than 18 months born to an HIV-infected woman, by the next business day.
Program staff also locates cases by reviewing medical records and contacting local organizations, private providers and hospital infection control staff. Cases of HIV-related conditions, from the reporting of HIV infection in asymptomatic people to death certificate review for HIV/AIDS-related mortality, are identified as well.
Florida data are entered in the Enhanced HIV/AIDS Reporting System (eHARS) and sent to the CDC monthly. CDC maintains the national dataset—an unduplicated count of all HIV/AIDS cases in the U.S. RIDR is the process that ensures the national dataset is made up of unduplicated cases. All states participate in RIDR.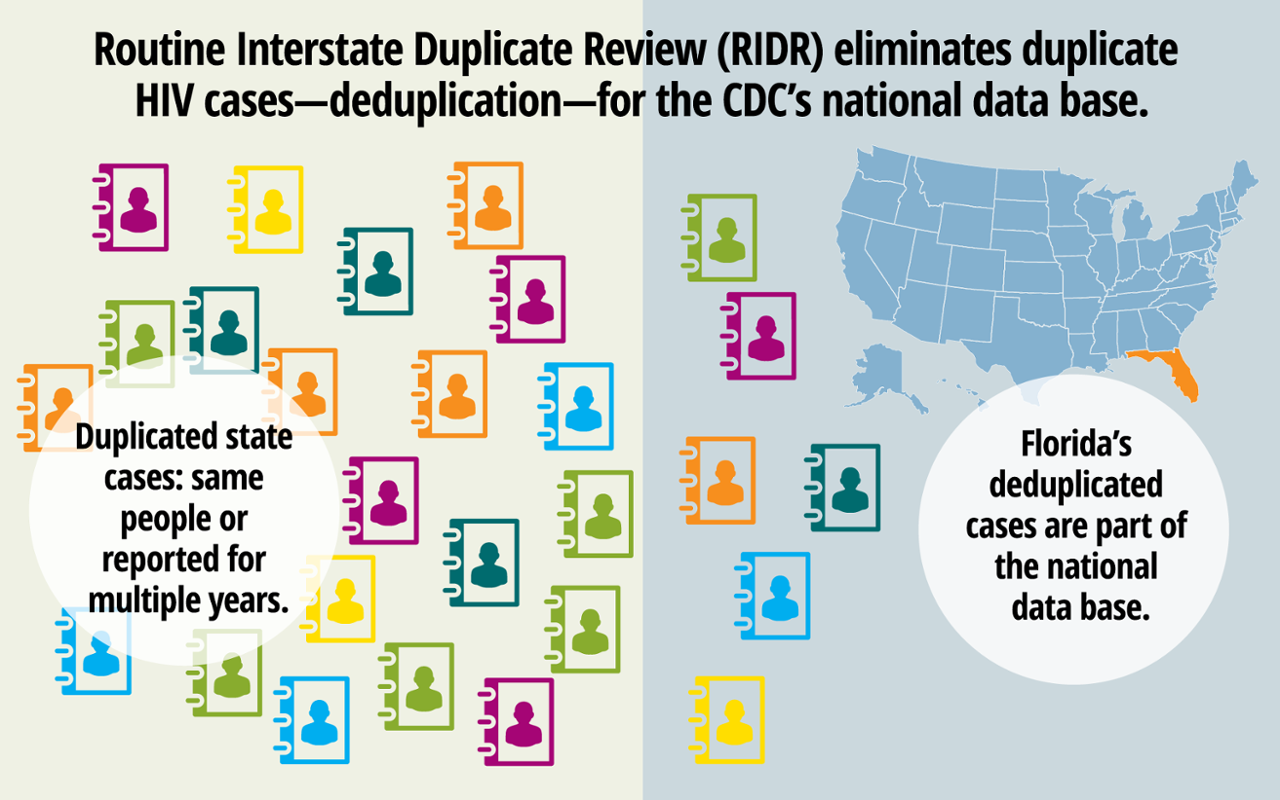 The table below is based on the year the case was reported to DOH, not the year the patient was diagnosed.  For example, of the 5,211 cases reported in Florida in 2010, 4,369 of those cases were diagnosed in Florida in 2010 or earlier*. The HIV cases in this table reflect year of report but could have been diagnosed anytime (that year or before), not just 2010. Therefore these numbers will always be different.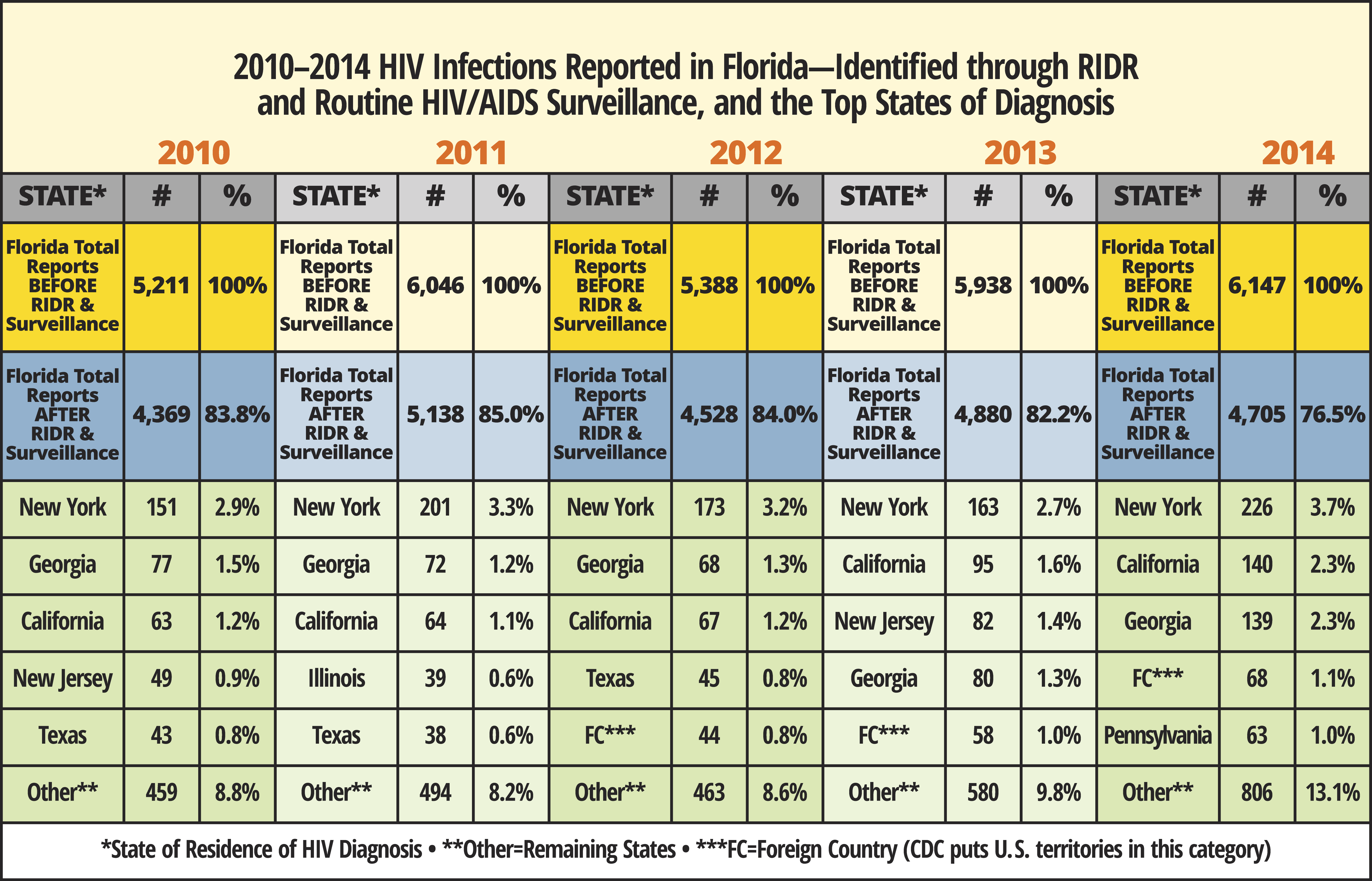 The following are examples of how HIV cases can be duplicated in Florida.
Example 1
Example 2
Example 3
An individual from Ohio was diagnosed five years ago with HIV. The person moved to Florida last year and found a doctor in their new town and went in for a check-up. The new doctor ordered routine lab tests, including CD4 and viral load, to see how the person was doing. These lab results were reported electronically to the Department of Health. Follow-up by surveillance staff shows current residence of diagnosis as Florida with a past HIV history in Ohio, per client. The case is entered into the database and counted as a Florida case because of the residence of diagnosis. The patient is later identified during a de-duplication process, and it is verified that the patient has an earlier diagnosis in Ohio. The residence at diagnosis is then changed to Ohio in Florida's database, and the case will no longer be counted as a Florida case.
An individual lives in Alabama but visits family in Florida. While here, the individual attended a community event where free HIV testing was offered. The person used their family member's Florida address. The individual tested positive and the results was reported to the Department of Health. This is the person's first time testing HIV positive, therefore they are counted as a newly reported and newly diagnosed case in Florida. If the person goes back to Alabama and receive care and treatment for HIV, the case will remain a Florida case because the residence at diagnosis given by the patient to the testing site and/or provider was Florida.
An individual lives in a small town in southern Georgia. The individual travels into Florida to see an HIV specialist who provides outstanding care. The individual's routine CD4 and viral load lab tests are reported electronically to the Department of Health. Follow-up by surveillance shows the individual resides in Georgia. The case will not be entered into the Florida database because the residence of diagnosis and current residence is in Georgia.
Persons Diagnosed and Living with HIV (PLWH)
As well as understanding the number of new HIV cases in Florida, it is also important to be aware of the overall prevalence, or number of people living with HIV in the state. We track these living cases because it informs decisions related to resource allocation and to ensure all people with HIV in Florida have access to the care they need. Figure 3 presents the stages of HIV Care of the people living with HIV in Florida. This model is updated annually.
Definitions
The Diagnosis-Based Model of the HIV care continuum shows each step of the continuum as a percentage of the number of people diagnosed and aware and living with HIV disease as of the end of 2015.
HIV Diagnosed and Aware: The number of persons known to be diagnosed, aware and living in Florida with HIV disease (PLWH) through 2015, as of 06/30/2016, regardless of AIDS status or where diagnosed.
Linked to Care: PLWH with at least 1 documented viral load (VL) or CD4 lab, medical visit or prescription since HIV diagnosis.
In care: PLWH with at least 1 documented VL or CD4 lab, medical visit or prescription in 2015.
Retained in care: PLWH with 2 or more documented VL or On ART: 96% of those in care in 2015 were estimated to be on ART. These are estimates from the 2015 MMP data which is weighted data and cannot be applied to small geographic or demographic breakdowns, therefore the bar not shown.
Suppressed Viral Load: PLWH with a suppressed viral load (<200 copies/mL) on the last viral load in 2015.
CD4 labs, medical visits or prescriptions (at least 3 months apart) in 2015.