skip to content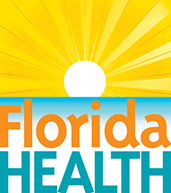 It's a New Day in Public Health.
The Florida Department of Health works to protect, promote & improve the health of all people in Florida through integrated state, county, & community efforts.
skip to content
Influenza
Contact the Florida Department of Health
 

Mailing Address

Florida Department of Health 

4052 Bald Cypress Way 

Tallahassee, FL 32399 
Week 10: March 4-10, 2018
State influenza and influenza-like illness (ILI) activity:
• In week 10, influenza activity decreased. Data indicate influenza activity peaked during week 5 (ending February 3, 2018). While decreases have been observed, activity levels were still high, indicating the season is not over yet.
• No new influenza-associated pediatric deaths were confirmed. Six influenza-associated pediatric deaths have been confirmed so far in the 2017-18 influenza season.
• Deaths due to pneumonia and influenza were below expected levels.
• Twelve outbreaks of influenza or ILI were reported: four with laboratory confirmation of influenza and eight ILI. As of week 10 (ending March 10, 2018), 468 outbreaks of influenza and ILI have been reported since the start of the 2017-18 season.
• The Florida Department of Health is conducting enhanced surveillance of intensive-care unit (ICU) patients aged <65 with laboratory-confirmed influenza. In week 10, 18 cases were reported, bringing the total number of cases reported up to 292 since February 1, 2018. The majority of these cases occurred in unvaccinated people with underlying health conditions.
Immunizations and prevention:
• The Florida Department of Health recommends that sick people stay home until fever-free for at least 24 hours (without the use of fever-reducing medication) and that all people use good handwashing practices.
• Although influenza activity has peaked, it is still not too late to get vaccinated. People who have not been vaccinated should get vaccinated as soon as possible. Flu vaccines are safe and are the best way to prevent influenza infection and serious influenza complications. Influenza vaccination has been shown to significantly reduce the risk of hospitalization for influenza among adults aged ≥50 years (https://academic.oup.com/cid/article/63/10/1304/2452971) and the risk of death due to influenza among children (https://www.cdc.gov/media/releases/2017/p0403-flu-vaccine.html).
• The Centers for Disease Control and Prevention (CDC) recommends vaccination as long as influenza viruses are circulating. To find a flu shot near you, visit: www.floridahealth.gov/findaflushot. Flu vaccines are also available at your local county health department.
Treatment:
• In severe seasons like this one, the use of antivirals is especially important.
• CDC recommends the use of antiviral treatment as soon as possible for all hospitalized, severely ill, and people who are at higher risk for complications with suspect influenza: children <2 years old, adults ≥65 years old, pregnant women, and those with underlying medical conditions. Administer treatment within 48 hours of illness onset (but treatment administered after this period can still be beneficial). A recent CDC health advisory stresses the importance of rapid and early antiviral treatment this season. Visit: http://www.floridahealth.gov/diseases-and-conditions/influenza/_documents/cdc-han-influenza-12-27-2017.pdf.
• Clinicians should not wait for laboratory confirmation to administer antivirals to people with suspect influenza.
National influenza activity:
• Influenza activity decreased, but remained well above the national baseline.
• As in Florida, influenza A (H3) has been the most common strain of influenza identified, however, influenza B activity has continued to increase in recent weeks.
• This late-season circulation of influenza B is expected.
Influenza, or flu, is a respiratory infection caused by a variety of flu viruses. The "flu" is a common catch-all term used for a variety of illnesses, but it correctly applies only to the upper respiratory disease caused by the influenza virus. To locate a flu shot near you, contact your physician, your local county health department, or use the Florida Department of Health's flu shot locator.
Estimates are that between 15% and 40% of the population will develop illness from influenza every year. An average of about 36,000 people per year in the United States die from influenza, and 114,000 per year have to be admitted to the hospital as a result of influenza infection. Anyone can get the flu (even healthy people), and serious problems from influenza can happen at any age. People age 65 years and older, people of any age with chronic medical conditions, and very young children are more likely to get complications from influenza.
*Note: This page contains materials in the Portable Document Format (PDF). The free Acrobat Reader may be required to view these files.