skip to content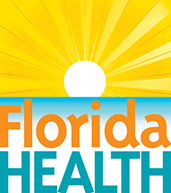 It's a New Day in Public Health.
The Florida Department of Health works to protect, promote & improve the health of all people in Florida through integrated state, county, & community efforts.
skip to content
Influenza
Contact the Florida Department of Health
 

Mailing Address

Florida Department of Health 

4052 Bald Cypress Way 

Tallahassee, FL 32399 
Influenza, or flu, is a respiratory infection caused by a variety of flu viruses. The "flu" is a common catch-all term used for a variety of illnesses, but it correctly applies only to the upper respiratory disease caused by the influenza virus.
Estimates are that between 15% and 40% of the population will develop illness from influenza every year. An average of about 36,000 people per year in the United States die from influenza, and 114,000 per year have to be admitted to the hospital as a result of influenza infection. Anyone can get the flu (even healthy people), and serious problems from influenza can happen at any age. People age 65 years and older, people of any age with chronic medical conditions, and very young children are more likely to get complications from influenza.
For the most current information about influenza in Florida, please see Florida's Weekly Surveillance Report, the Florida Flu Review. Below is a summary of the current flu review.
Summary - Week 41: October 8-14, 2017
State influenza and influenza-like illness (ILI)¹ activity²:
• During week 41, influenza activity increased but remained at low levels overall across the state, although preliminary data indicate some high-risk subpopulations are seeing larger increases. Influenza activity is expected to increase in the coming weeks as we head into the fall and winter months.
• The number of emergency department (ED) and urgent care center (UCC) visits for ILI among pregnant women increased notably and was above levels observed in previous seasons at this time. Influenza is five times more likely to cause severe illness in pregnant women than in women who are not pregnant. Inactivated influenza vaccines are safe and offer the best protection against influenza infection for pregnant women and their babies. Pregnant women who have not been vaccinated should get vaccinated now.
• Florida reported sporadic activity to the Centers of Disease Control and Prevention (CDC) in week 41.
• No influenza-associated pediatric deaths were reported. No influenza-associated pediatric deaths have been reported so far during the 2017-18 season.
• During the 2016-17 influenza season, 11 influenza-associated pediatric deaths were reported. Annual vaccination remains the best way to protect children against influenza. Now is the perfect time to get vaccinated.
• The majority of counties reported no influenza activity or mild influenza activity. Only one county reported moderate influenza activity.
• One outbreak of influenza A was reported. The number of influenza A outbreaks reported in recent weeks remained steady. It is not unusual to detect sporadic outbreaks of influenza early in the season. Detection of early season outbreaks can be useful for identifying the circulation of unusual or more severe strains of influenza. At this point in the influenza season, it still is not possible to make predictions about the severity or time of peak activity based on these outbreak reports.
• Since July, the most common influenza subtype detected at the Bureau of Public Health Laboratories (BPHL) has been influenza A (H3). It is still too early to say if influenza A (H3) will continue to predominate throughout the season.

• Respiratory syncytial virus (RSV) activity in children <5 years increased, and has remained higher than levels observed in previous seasons for several weeks in a row (see page 12).
National influenza activity:
• Influenza activity remains at low levels nationally.
• Consistent with the trend observed in Florida, influenza A (H3) has been the most common influenza subtype reported to the Centers for Disease Control and Prevention (CDC) by public health laboratories across the nation since July.
• The CDC Advisory Committee on Immunization Practices (ACIP) voted in favor of the recommendation that live attenuated influenza vaccine (LAIV) should not be used during the 2017-18 influenza season. This recommendation follows concerns about lower effectiveness of LAIV during the 2013-14 and 2015-16 influenza seasons against influenza A 2009 (H1N1) viruses. The ACIP continues to recommend annual influenza vaccination with either the inactivated influenza vaccine (IIV) or recombinant influenza vaccine (RIV) for everyone aged six months and older.
• There is an increased risk for highly pathogenic avian influenza (HPAI) virus identification in birds as we enter the fall migratory season. HPAI has not been identified in Florida birds (and would be expected to be observed in northern states first), but identifications are possible. No human HPAI infections have been identified in Florida or any other states.
• To learn more about HPAI, please visit: www.flordiahealth.gov/novelflu
*Note: This page contains materials in the Portable Document Format (PDF). The free Acrobat Reader may be required to view these files.