Rabies Prevention, Surveillance and Control
Rabies Prevention and Control 2014 Guide (2 MB PDF) 
World Rabies Day - September 28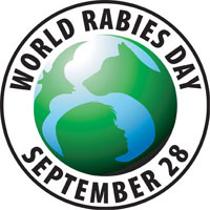 Florida Department of Health and partners Florida Department of Agriculture, Florida Animal Control Association, University of Florida College of Veterinary Medicine, Florida Fish and Wildlife Conservation Commission, Florida Wildlife Rehabilitators Association and the Florida representatives for the United States Humane Society are in support of the World Rabies Day mission to raise awareness about:
1) The impact of human and animal rabies
2) How easy it is to prevent rabies from occurring
3) How to eliminate the main global sources
See World Rabies Day for more information
Related Links
*Note: This page contains materials in the Portable Document Format (PDF). The free Adobe Reader may be required to view these files. All documents on this page are PDFs under 1 MB unless otherwise noted, and open in a new window.