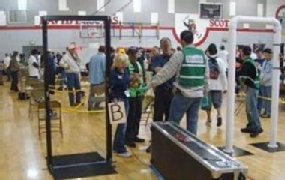 Headlines & Features
Radiation Volunteer Training Classes Available!
A free one-day class is available in several Florida cities in 2014 for volunteers who want to help monitor for contamination after a radiation disaster.
Radiation volunteer training registration.
Previous radiation headlines.
Programs
Ionizing Radiation Machines (X-ray)
Registration and inspection of devices, such as x-ray machines, which produce ionizing radiation.
Radioactive Materials
Licensing and inspection of facilities, such as hospitals and universities, which use radioactive materials.
Radiologic Technology
Certification of people who operate radiation machines or administer radioactive materials to patients.
Environmental Radiation Programs
Monitoring of Florida's radiological environment, including around the state's five nuclear power reactors; potassium iodide (KI) usage; emergency preparedness training; and response to radiation incidents.
Nonionizing Radiation Machines (Lasers)
Registration of high-power lasers.
Advisory Council
Meetings of the Advisory Council on Radiation Protection
Contact Information:
Cindy Becker, Chief
Bureau of Radiation Control
4052 Bald Cypress Way, Bin #C21
Tallahassee, FL 32399-1741
Phone: 850-245-4266
Fax: 850-487-0435
24 Hour Emergency: 407-297-2095
Under Florida law, e-mail addresses are public records. If you do not want your e-mail address released in response to a public records request, do not send electronic mail to this entity. Instead, contact this office by phone or in writing (F.S. 668.6076)

Email Radiation Control
*Note: This page contains materials in the Portable Document Format (PDF). The free Adobe Reader may be required to view these files.