All people involved in a disaster are affected in some way, from emergency response workers to disaster survivors, (including family members and friends), and the public at large. Persons affected by disaster events may experience varying levels of stress and anxiety. They may also display other physical and psychological symptoms that could adversely affect their ability to respond and function. Outreach, early psychological first aid, and referrals can assist disaster survivors meet new challenges, and offers support in their recovery process to return them to pre-disaster performance and functioning levels.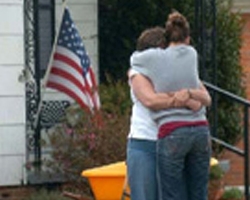 The Department of Health, in conjunction with the Florida Crisis Consortium, has formed Disaster Behavioral Health Response Teams to work with communities (at the request of local jurisdictions) to assess and manage behavioral health needs that occur as a result of a disaster.
Disaster Behavioral Health response Teams work with communities and emergency responders to assist with the mitigation of emotional, psychological, and physical effects of a disaster, natural or man-made. Disaster behavioral health responders apply the concepts of psychological first aid to help those affected overcome the initial impact of shock, denial, and depression when confronting disasters. For more information on Disaster Behavioral Health Response Teams, see the flyer and Florida Disaster Behavioral Health Response Plan.

--------------------------------------------------------------------------------
"Under Florida law, e-mail addresses are public records. If you do not want your e-mail address released in response to a public records request, do not send electronic mail to this entity. Instead, contact this office by phone or in writing." - Fla. Stat. sec. 668.6076
--------------------------------------------------------------------------------
For more information on becoming a Disaster Behavioral Health Response Team member contact dbh@flhealth.gov

The following resources support Disaster Behavioral Health Response Team activities. If you have feedback or input on how to improve this Webpage or would like to share/submit additional resources, send an email to dbh@flhealth.gov

To contact us by phone call: (850) 245-4040
*Note: This page contains materials in the Portable Document Format (PDF).  The free Adobe Reader may be required to view these files.