skip to content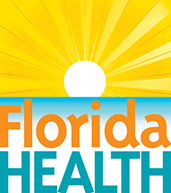 It's a New Day in Public Health.
The Florida Department of Health works to protect, promote & improve the health of all people in Florida through integrated state, county, & community efforts.
skip to content
Newborn Screening
Contact the Newborn Screening Program
Mailing Address

Newborn Screening Program

4052 Bald Cypress Way, Bin A06

Tallahassee, FL 32399
Most babies arrive into the world healthy, but some have a rare health problem that is not outwardly visible.  Florida screens for all 31 disorders recommended by the United States Department of Health and Human Services Recommended Uniform Screening Panel and an additional 22 secondary disorders, unless a parent objects in writing.  Before leaving the hospital, a few drops of blood are taken from the heel of the baby and the ears are also tested for hearing.  The hospital sends the blood sample to the Bureau of Public Health Laboratories in Jacksonville which screens over 1,000 blood samples per day.  All results are sent back to the hospital and then forwarded to the baby's doctor.  Doctors can also get results for their patients from the Florida Newborn Screening Results website.   If the screening results are abnormal, the Newborn Screening Follow-up Program which is a part of Children's Medical Services will contact the parent and\or doctor about additional testing and continue follow-up until the disorder is either ruled out or confirmed.  The screening process helps find and treat conditions early which can prevent serious problems like intellectual disabilities or death.
Announcements:
The Florida Department of Health Newborn Screening Program is proud to announce that Critical Congenital Heart Disease (CCHD) has been added to the panel of disorders screened in Florida. This addition was recommended in 2012 by the Florida Genetics and Newborn Screening Advisory Council and funding was authorized during the 2013 Legislative session.
 Congenital malformations are one of the leading causes of infant death in the United States.  CCHD is responsible for more deaths than any other type of malformation.  Data suggests that some forms of CCHDs can be detected through pulse oximetry screening before the newborn shows signs and symptoms. The Secretary's Advisory Committee on Heritable Disorders in Newborns and Children, American Heart Association, American Academy of Pediatrics, and the American College of Cardiology have endorsed pulse oximetry screening of all newborns before hospital discharge.
Testing methodology used to screen for CCHD will be pulse oximetry of the right hand and either foot.  Screening must be conducted on each newborn after 24 hours of age or prior to hospital discharge, following the guidelines outlined by the national Centers for Disease Control and Prevention, (refer to attached algorithm and web link below). Infants identified to have abnormal results should immediately receive further testing and evaluation.
Parent brochures are currently being revised to include information on CCHD.  The newborn screening specimen card will be modified to include fields to collect the pulse oximetry screening results and the Department of Health is creating a web-based application that hospitals can also use to record the pulse oximetry screening results.  It is important that the submission of the specimen card not be delayed pending the hearing screening or pulse oximetry results; therefore, additional cards can be submitted if necessary to submit the pulse oximetry results.
Additional information about pulse oximetry screening can be found at the Florida Newborn Screening Program website. 
SCID Testing began October 1st, 2012. Please see our announcement letter and additional information about the newest disorder added to Florida's newborn screening panel.
Download the summer edition of the Newborn Screening Program's Baby Steps Newsletter, updated on August 1, 2012.
Download the latest Florida Newborn Screening Guidelines, updated on May 24, 2012.  To order additional copies, please complete the Guidelines Request Form and fax or mail it to the Newborn Screening Program.

To: All Users of Newborn Screening Specimen Collection Cards (DH677)
If you have any expired specimen cards, please DISCARD them.
Specimens collected on expired cards will be REJECTED.
ACCEPTABLE cards have the following lot numbers and expiration dates:
Lot W111 Exp Date: 2014-07
Lot W111 Exp Date: 2015-01
Lot W112 Exp Date: SEP-2015
Lot W113 Exp Date: FEB-2016
Cards with lot numbers higher than W113
Fax a
request to Newborn Screening Laboratory
if more cards are needed.
Attention to: Nita, Joan, or Danielle
Phone: 904-791-1572
If you use heparin as an anticoagulant, please see this SPECIAL NOTICE.
Florida Newborn Screening's blood spot retention policy.
NEXT MEETING:
Genetics and Newborn Screening Program Advisory Council
WHEN: Friday February 6th, 2015 from 10:00 am - 3:00* pm EST

WHERE:

Bureau of Laboratories
Porter Auditorium
1217 Pearl Street
Jacksonville, FL 32231
PURPOSE:                  

Florida Genetics and Newborn Screening related topics.

Pursuant to the provisions of the Americans with Disabilities Act (ADA), any person requiring special accommodations to attend this meeting is asked to advise the agency at least 48 hours before the meeting by contacting the Florida Newborn Screening Program at (850) 245-4201.
*Adjournment time is approximate, depending on completion of the advisory council business. 
Under Florida Law, e-mail addresses are public records. If you do not want your email address released in response to a public records request, do not send electronic mail to this entity. Instead, contact this office by phone or in writing.
Please contact The Newborn Screening Program at (850) 245-4201 or by email at CMS.NBS@FLHealth.gov, if you have any further questions.
*Note: This page contains materials in the Portable Document Format (PDF). The free 
Adobe Reader
 may be required to view these files.
*Note: This page contains materials in the Microsoft Word (DOC) format. The free 
Microsoft Word Viewer
 may be required to view these files.