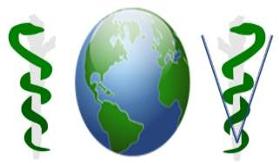 The One Health concept arose from the realization that human health and animal health are inextricably linked and that a holistic approach is needed to understand, to protect, and to promote the health of all species. Whether it is emerging infections diseases, antibiotic resistance, globalization, natural disasters, or climate  change, human and veterinary medical communities must work together to successfully combat the serious health threats of the 21st century. One Health seeks to improve communication and encourage collaboration between veterinarians, physicians, environmental scientists and public health professionals to find multidisciplinary solutions to these shared challenges. This newsletter was created to lend support to the One Health Initiative and is dedicated to enhancing the integration of animal, human, and environmental health for the benefit of all by demonstrating One Health in practice.
Current Issue - Spring
Spring 2014-Volume 7 Issue 2 (PDF 3.1 MB)
In this issue:
The Natural History of Eastern Equine Encephalitis Virus in Florida
One Health in Action: Reducing Feral Swine Damage and Disease
An Analysis of the Linkages between Public Health & Ecosystem
Integrity, part 3 of 6
Graduate-level Certificate in One Health Training at the
University of Florida
One Health Innovation Fellowships for Zoonotic Disease Research
in Mongolia
ProMED Quarterly Update - Camels, bird flu, and Ebola
Advancements in One Health
Upcoming Events
Publications in One Health
References
Winter Issue
Winter 2014-Volume 7 Issue 1 (PDF 1 MB)
In this issue:
Transition Announcement
Texas National Veterinary Stockpile Exercise
Coming (Back) to America? What 2013 Can Teach Us about Dengue in the United States
An Analysis of the Linkages between Public Health & Ecosystem Integrity, part 2 of 6
ISAAH-7: One Health Focus on Environmental and Aquatic Animal Health
One Health in Practice: The Florida Interagency Wildlife Disease Working Group
ProMED Quarterly Update
Advancements in One Health
Upcoming Events     
Recent One Health Publications
One Health Resources
One Health Initiative: http://www.onehealthinitiative.com
One Health Commission: http://www.onehealthcommission.org/
Centers for Disease Control and Prevention - Confronting Infectious Diseases in an Interconnected World: People, Animals, and the Environment: http://www.cdc.gov/nczved/framework/
Contact Us
Under Florida law, e-mail addresses are public records.  If you do not want your e-mail address released in response to a public records request, do not send electronic mail to this entity.  Instead, contact this office by phone or in writing.
To subscribe to the One Health distribution list, please e-mail OneHealth@doh.state.fl.us.
To submit articles or comments to the editor, please e-mail OneHealthEditor@doh.state.fl.us.
*Note: This page contains materials in the Portable Document Format (PDF). The free Adobe Reader may be required to view these files. All documents on this page are PDFs under 1 MB unless otherwise noted, and open in a new window.