Zoonoses are infectious diseases that can be naturally spread from animals to humans.  A number of zoonotic diseases are present in Florida.
Mosquito-borne and Other Insect-borne Diseases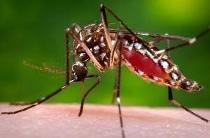 To prevent mosquito-borne diseases, the Florida Department of Health recommends practicing, DRAIN and COVER. Stop mosquitoes from living and multiplying around your home or business. Protect yourself from mosquito's bites and the diseases they carry.
Read more about Mosquito-borne and other Insect-borne Diseases
Rabies Awareness and Prevention
Rabies is one of the most feared zoonoses because it nearly always results in fatal, acute encephalitis. This disease is usually transmitted to humans when the virus is introduced into an open wound or abrasion of the skin or mucous membranes following exposure to the saliva of a rabid animal.
Tick-borne Diseases
Ticks are an important disease vector in the United States. Preventing tick bites is the best way to avoid becoming ill.
Brucella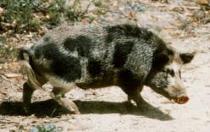 The most common species of Brucella isolated from Florida patients is B. suis, which is endemic in Florida feral hogs. Brucella melitensis and B. abortus are not found in Florida. However these species may cause infections in Florida residents with travel to developing countries where these species are still endemic in domestic goats, sheep and cattle.
Rodents
Wild rodents can cause home damage, contaminate food, and cause illness in people and pets. Rodent infestations are more likely to occur when events such as flooding displace them. To avoid rodent infestation remove potential rodent food and water sources, and store food for people and pets in sealed containers. Clear debris and other material that rodents can hide in. Safely clean up rodent droppings, urine and nesting areas, always wearing gloves and spraying material with disinfectant until thoroughly soaked before attempting to remove or clean.
Raccoon Roundworm (Baylisascaris)
Baylisascaris procyonis
This parasite was considered to be absent or rare in Florida raccoons until 2010 when Baylisascaris eggs were identified in several wild raccoons in Leon County in north Florida.
Related Topics
Resources
*Note: This page contains materials in the Portable Document Format (PDF). The free Adobe Reader may be required to view these files. All documents on this page are PDFs under 1 MB unless otherwise noted, and open in a new window.