skip to content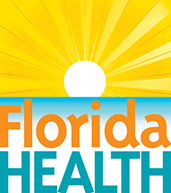 It's a New Day in Public Health.
The Florida Department of Health works to protect, promote & improve the health of all people in Florida through integrated state, county, & community efforts.
skip to content
Pertussis (Whooping Cough)
Contact the Florida Department of Health
 

Mailing Address

Florida Department of Health 

4052 Bald Cypress Way 

Tallahassee, FL 32399 
Pertussis, a respiratory illness commonly known as whooping cough, is a very contagious disease caused by a type of bacteria called Bordetella pertussis. These bacteria attach to the cilia (tiny, hair-like extensions) that line part of the upper respiratory system. The bacteria release toxins (poisons), which damage the cilia and cause airways to swell.
Symptoms
Transmission
Prevention
Pertussis symptoms have two stages. The first stage (which lasts 1 to 2 weeks) begins like a cold, with a runny nose, sneezing, mild fever, and cough which slowly gets worse. The second stage is marked by uncontrolled coughing spells and a whooping noise (in young children) when the person inhales. During severe coughing spells, a person may vomit or become blue in the face from lack of air. Between coughing spells, the person often appears to be well. The coughing spells may be so bad that it is hard for babies to eat, drink of breath. This coughing stage may last for 6 weeks or more. Adults, teens, and vaccinated children often have milder symptoms that mimic bronchitis or asthma. Some infants may only have apnea (failure to breath), and may die from this.
The germs that cause pertussis live in the nose, mouth and throat, and are sprayed into the air when an infected person sneezes, coughs or talks. Other people nearby can then inhale the germs. Touching a tissue or sharing a cup used by someone with pertussis can also spread the disease. The first symptoms usually appear about 7 to 10 days after a person is exposed. Infants often get pertussis from older children or adults.
Who gets pertussis?
Pertussis is most common among infants less than a year old, but anyone can get it. Pertussis can be hard to diagnose in very young infants, teens and adults because their symptoms often look like a cold with a nagging cough.
Yes, there is a vaccine to prevent pertussis. It is given along with diphtheria and tetanus vaccines in the same shot (called DTaP or Tdap). Five doses of vaccine, given in a series starting at 2 months of age, are needed to protect a child from pertussis. An adolescent and adult booster vaccine is recommended for persons 11-12 years and older. The vaccine works for most children, but it wears off after a number of years.
Pertussis Surveillance Summary
February 2018
State pertussis activity:
Twenty-eight confirmed and probable pertussis cases were reported among 16 counties in February.


Pertussis activity increased from the previous month and remains consistent with trends observed in previous years at this time.
From January 1, 2018 through February 28, 2018, 48 confirmed and probable cases of pertussis were reported among 21 of Florida's 67 counties.

Since 2014, an overall decrease in the annual number of confirmed and probable cases of pertussis reported has been observed. Pertussis is naturally cyclic in nature with peaks in disease every 3-5 years.
There were no outbreaks of pertussis reported in February.


For most pertussis cases, exposure to other known cases is never identified, and they are not able to be linked to outbreaks.

In February, for every pertussis case identified, there was an average of three exposed contacts who were recommended antibiotics to prevent illness. For those diagnosed with pertussis, antibiotics can shorten the amount of time they are contagious to others. Antibiotics can also be used to prevent illness in those who have been exposed to someone with pertussis while they are contagious.
Infants less than one year old had the highest incidence of pertussis. This is consistent with national trends, which also show the highest incidence rate in infants less than one year old. Infants less than two months old are too young to receive vaccinations against pertussis, which is why vaccination of other age groups is so important to help prevent infection in infants.
Vaccination is the best way to prevent pertussis infections. In February, 57% of reported cases had not received the recommended number of pertussis vaccinations for their age or had unknown vaccination status. In general, those who have received at least one pertussis vaccination have less severe outcomes than those who have never been vaccinated. In February, those who were undervaccinated were most likely to visit the emergency department and require inpatient hospitalization.
To learn more about pertussis, please visit http://www.floridahealth.gov/pertussis.
National pertussis activity:
The number of pertussis cases has been gradually increasing since the 1980s, peaking in 2012 at levels not seen since the 1950s. Since 2012, the number of pertussis cases has started to gradually decrease.
Pertussis incidence has remained highest among infants less than one year old and lowest among those age 20 and older since the 1990s.
*Note: This page contains materials in the Portable Document Format (PDF). The free Acrobat Reader may be required to view these files.