skip to content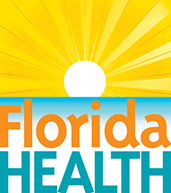 It's a New Day in Public Health.
The Florida Department of Health works to protect, promote & improve the health of all people in Florida through integrated state, county, & community efforts.
skip to content
Aquatic Toxins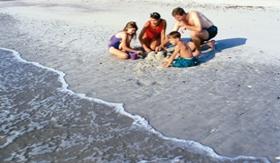 Harmful Algal Blooms (HABs) and Your Health
Florida features 1,200 miles of coastline, 11,000 miles of rivers, streams and creeks, 7,700 lakes and more large springs than any other state. The Florida Department of Health (DOH) works to keep these waters safe from harmful algal blooms (HABs) and their toxins (or poisons). This work helps keep people safe from HABs when they play in or near water bodies or when they eat Florida seafood.

DOH protects the health of people who live in or visit Florida by:
Informing people about HABs
Working with local, state and federal agencies to help people avoid becoming ill from HABs
HABs include Karenia brevis (red tide), ciguatera, and blue-green algae. DOH also helps people avoid toxins from other animals and plants that live in water. There is more information on HABs on websites from these agencies:
Florida Fish and Wildlife Conservation Commission (FWC)
Florida Department of Environmental Protection (DEP)
Florida Poison Control Center
US Centers for Disease Control and Prevention (CDC)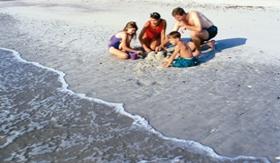 DOH'S EFFORTS
PARTNERSHIPS
EDUCATIONAL AND OUTREACH MATERIALS
HOW TO GET MORE INFORMATION
DOH provides education to the public, as well as the health care workers who serve them, to prevent and reduce illnesses caused by HABs.
Florida's Poison Control Centers and DOH in the counties report HAB-related cases to the Department. We also review hospital information to find new cases of illness. We work to see if HABs caused them.
DOH works with neighborhood groups, local health departments, and any group who wants to learn more about HABs. We also teach people how to avoid contact with HABs.
DOH partners with many agencies and other groups to better understand how and when people get sick from HABs. We work together to share information on health and the environment. Some of our partners include:
Florida's Poison Control Centers
Florida Water Management Districts
Florida FWC and its Research Institute
National Oceanic and Atmospheric Administration (NOAA)
US Centers for Disease Control and Prevention (CDC)
DOH provides research-based information to residents and visitors, health care workers, as well as other people who want to know about the health impacts HABs may cause. We help people make informed, healthy choices to be safe while playing near or in water bodies and when eating local seafood.
Our materials with more information on HABs include:
Red Tide Card

Red tides, also called harmful algal blooms, occur worldwide. In Florida, naturally occurring, microscopic alga cause most red tides. A red tide means there is a higher-than-normal concentration of organisms present. This information card gives facts and contact information about red tide events in Florida.

Red Tide FAQs

This fact sheet answers frequently asked questions about Red Tide.

Red Tide Pamphlet

This pamphlet lists the top 10 Facts on Florida Red Tide.

Ciguatera Fish Poster

Ciguatera Fish Poisoning (CFP) is the most common type of marine poisoning in the world. Exposures occur through eating seafood, mainly large tropical finfish at the top of the food chain. In Florida, CFP cases occur every year, with most of them taking place in South Florida. This poster describes the algae that produce the toxin, the types of fish it affects, and how to avoid getting sick.

Ciguatera Card

This card tells people who eat seafood about the top 10 facts or risk factors they need to know about to avoid ciguatera fish poisoning.

Beware of Ciguatera Poster

This poster describes the types of fish that have been connected to ciguatera.

HAB Technical Guide habs-technical-guide

The Resource Guide for Public Health Response to Harmful Algal Blooms in Florida is the product of a group effort between DOH, the FWC, and other federal, state and local partners. It describes the current science of HABs in Florida, how the agencies work together when HABs occur, and contact information.

Puffer Fish Poster 

This poster shows how choosing to eat a puffer fish may make you suffer or become ill. In Florida, certain puffer fish contain a chemical called saxitoxin. Most cases occur when people eat affected puffer fish from the Indian River Lagoon area. It can also build up in some shellfish. This poster describes where the toxin comes from, the types of puffers found in the past to have it, and how to avoid it.


Blue Green algae, also known as cyanobacteria, occur all around Florida and the world. Many are single celled. Some may produce chemicals that can harm humans and animals.
To report a localized die-off of fish (fish kill), call the FWC at: 1-800-636-0511 or the FWC web site (opens in new window) 
Report suspected illnesses related to aquatic toxin exposures or harmful algae to the Poison Control Hotline at: 1-800-222-1222
Department of Health Point of Contact:
Andrew Reich, MS, MSPH, RRT
Public Health Toxicology Program
Florida Department of Health
4052 Bald Cypress Way, Bin # A12
Tallahassee, Florida 32399-1720
Under Florida law, e-mail addresses are public records. If you do not want your e-mail address released in response to a public records request, do not send electronic mail to this entity. Instead, contact this office by phone or in writing (F.S. 668.6076).
Email: Public Health Toxicology
Phone: (850) 245-4248
Fax: (850) 414-9069
*Note: This page contains materials in the Portable Document Format (PDF).  The free Adobe Reader may be required to view these files.
*Note: This page contains materials in the Portable Document Format (PDF).  The free Adobe Reader may be required to view these files.