Vision: Florida: an injury-free state.
Mission: To reduce Florida's injury burden through leadership, education, and policy.
Overview
The FIPAC was appointed to provide injury prevention research and practice expertise and to assist in the development, implementation and evaluation of the 2009–2013 Strategic Plan. Appointed council members and goal team members are assigned to one of the Strategic Plan's five prioritized goals. This group of approximately 50 individuals includes representatives from six key state agencies, the medical community, injury prevention advocacy groups and non-profit agencies, university systems, research facilities, county health departments, laypersons, law enforcement, and health educators/injury prevention specialists.
2009–2013 Florida Injury Prevention Strategic Plan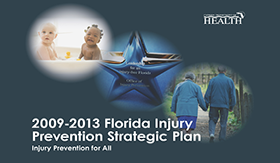 The 2009–2013 Florida Injury Prevention Strategic Plan serves as a successor to Florida's 2004–2008 Injury Prevention Strategic Plan, which is considered nationally as a model state plan. Florida is the first state injury prevention program to complete the implementation of an existing five–year strategic plan while drafting a successor plan. Planning for the 2009–2013 Florida Injury Prevention Strategic Plan began in October 2007, and continued throughout 2008. During this time, the Office of Injury Prevention (now the Injury Prevention Program), Florida Injury Prevention Advisory Council and Goal Team Members developed by consensus this plan's Vision and Mission Statements, plus five data–driven goals and their associated strategies.
The public health injury surveillance and prevention program grant from the Centers for Disease Control and Prevention (CDC) provided core capacity funding for state plan development and implementation through July 31, 2011. The Office of Injury Prevention was one of 20 state health department injury prevention offices awarded the five year Core Violence and Injury Prevention Program grant by the CDC. Implementation of the 2009–2013 Florida Injury Prevention Strategic Plan will continue with this grant funding.
The injury prevention strategic plan and corresponding yearly action plans are not intended to supplant the many outstanding state and local injury prevention efforts currently underway, but rather to complement, enhance, strengthen, and fill gaps in those initiatives.
Under Florida law, e-mail addresses are public records. If you do not want your e-mail address released in response to a public records request, do not send electronic mail to this entity. Instead, contact this program by phone or in writing.
For additional information on injury prevention activities in Florida, please contact the Injury Prevention Program.
4052 Bald Cypress Way, Bin A22
Tallahassee, FL 32399-1722
Phone: 850-245-4440
Fax: 850-414-6470
Quality in a service or product is not what we put into it, it's what our customers get out of it. Are we meeting your expectations? Please take our Satisfaction Survey to provide your feedback.
*Note: This page contains materials in the Portable Document Format (PDF). The free Adobe Reader may be required to view these files.